---
USE THESE SHORTCUTS, OR BROWSE DOWN THE PAGE
Our Machinery Collection: Nearly 200 Machines: Machines for typesetting, prepress, printing and finishing
Our Founts Collection: Over 4000 Founts: Founts of hand-set type, typesetting matrices (including phototypesetting founts) and typecasting matrices.
Our Artefact Collection: Other Print Items: Tens of thousands of engraved blocks, stereotypes, electrotypes, typeformes, printers ornaments, hand tools, artwork, negatives, plates, proofs, printed samples, job bags, quotations, invoices, business records, books about printing, books as printed artefacts, you name it . . .
Our Ancilliary Collections: Office Equipment, Computers, Telephones: to show the working environment.
---
<!===========================================> RETURN TO TOP OF COLLECTION SUMMARY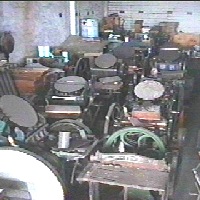 Our Machinery Collection
Machines of all kinds for printing, typecasting, typesetting, cutting, folding, camerawork, platemaking, stereo and many others. For letterpress, offset, foil printing, stampmaking, labelmaking.





Our collection of machines features both old technology and new. After all, what is new today will be old tomorrow. We include quite a few examples of `new' technology, already outdated after just a few years.

Typesetting systems (traditional and modern) include Asian and European language machines and founts.

Technical notes and historical notes about the machines are included within this Collection. Technical notes about matrix systems for use in these machines are also included, but notes about particular typefaces would be found in our Founts Collection (see below).

Linotype; Intertype; Ludlow; Nebitype; Monotype: machines which produce metal type, composed ready to print. Machines producing an image direct onto paper or film are under PRE-PRESS. Monotype Supercaster, Thompson Typecaster, manual typecasters: machines which produce single types, for hand typesetting. Photo-typesetters, computer typesetters, DTP and other systems which produce an image of type on film or paper; cameras, platemakers, processors: items which produce or handle images for photo-based printing.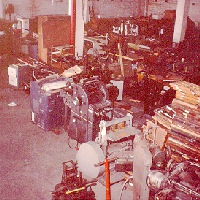 Letterpress platen and cylinder presses and proofers; Offset presses; Label presses and Overprinters. Hot Foil Stamping presses; bookbinders' gold blocking presses.
.
Guillotine, folder, stitcher/stapler, jogger, bindery: for processing the paper before or after printing.

Stereotyping press, melting pot, casting box, backplaner etc., for making duplicate printing blocks or rubber stamps.

Stripcasters, to extrude strips of spacing and similar material.

Sundry items. Examples are machines for sawing and mitring printing types and strip material, machines to make cross-points for rule-formes, to put security patterns onto typefaces, clean and adjust mats.
---
<!==================================================>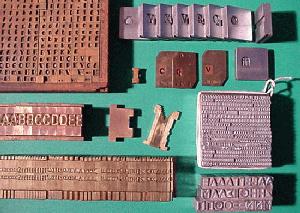 RETURN TO TOP OF COLLECTION SUMMARY
Our Founts Collection
A fount [Spelt as 'font' in US English, and pronounced 'font' in any dialect] is an old typefounder's term for the quantity of type made in one founding. [OED]



In the printing sense, the fount of type was meant to be an inexhaustible supply of letters (of the one face and size), from which a book was composed. Each fount is stored in a type case, a kind of tray with about 90 compartments, or perhaps a pair of cases if larger compartments are required.

As the compositor used up the letters, they would be topped up. Work would stop if the `case' ran out of any letter.

The collection includes many founts of type, new and used, with the majority ranging up to 60 years old. Some are older, with many from foundries long since closed. Most are stored in cases, and some `tied up' on galleys.

For the typefoundry, there are many founts of matrices for making hand-set type. It is relevant to note that unlike a fount of type, a fount of typecasting mats has only one of each character. So it is not a fount in the truest sense. But it was obviously convenient to use the same term.

For the linecasters (Linotype, Ludlow, etc.) the matrix founts are stored and used in magazines or matrix cases, and there are many of each letter.

Founts of matrices are listed here, but their technical notes will be found along with the machine that uses them.

HANDSET TYPE SECTION
TYPESETTING MATRIX SECTION
TYPECASTING MATRIX SECTION
---
<!==================================================> RETURN TO TOP OF COLLECTION SUMMARY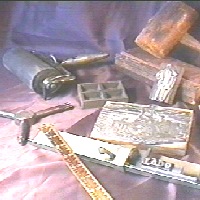 Our Artefact Collection
Look here for printing items which are not machinery or founts. If you cannot find what you're looking for, try our LOOK-UP.


HIGHLIGHTS
Hand tools, materials, cabinetry. Physical artefacts which have an embedded document. Documents carrying a design or stage of production of printing.

Books: on printing and as examples of printing. Includes thousands of books assembled to show styles of book design and the work of hundreds of printers and publishers throughout the world.

Archive of business records (quotes, invoices, working papers). Thousands of documents giving insight into commerce over the decades, not only within the printing industry.

Art prints and limited edition books: made in our Access Studio, as well as a few acquired from other studios.
DOCUMENTARY ARTEFACT SECTION
Pictorial engravings; typeset formes; cutting/creasing formes; stereotypes and stereotype matrices; camera-ready artworks; negatives; offset printing plates; rubber stamps, etc.. Each of these objects incorporates a document and in many cases can still be used to print that document.
DESIGN DOCUMENT SECTION
Layouts, roughs, galley proofs, final proofs, printed sheets and finished products. Suppliers' samples of ink, papers, card blanks.

Also in this section: conserved stocks of papers, cards and envelopes, many in original wrappings, examples of packaging including printed wooden boxes and cartons. Tins and tubes of inks and other supplies with their labels and packaging.
NON-MECHANICAL EQUIPMENT SECTION
Hand tools, specialised cabinetry and general furniture; the range of printers' materials such as spacing strips and blocks, rules, ornamental borders, chases and quoins.
LIBRARY SECTION
BUSINESS RECORD SECTION
A collection of business records from a number of former printing businesses. These include thousands of documents (quotes, invoices, working papers), giving insight into commerce and working methods over the decades, not only within the printing industry.
ART PRINTS SECTION
Art Prints, books and Other Works made in our Access Studio or other printeries.
---
<!=========================================>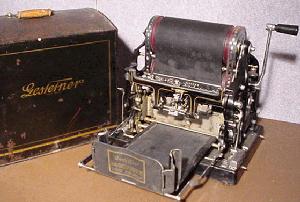 RETURN TO TOP OF COLLECTION SUMMARY
Our Ancilliary Collections
We have assembled some interesting items which have a less direct connection to printing or typesetting, but serve to illustrate something about the working environment in printing or other businesses.

These include :
OFFICE EQUIPMENT COLLECTION

Duplicators, desktop accessories, photocopiers, franking machines, cheque signers; [typewriters and calculators are under Computers];



TELEPHONE EQUIPMENT COLLECTION

Not only the telephones but the switchboards and even some automatic exchange equipment; also intercoms and faxes; and



TYPEWRITER & COMPUTER COLLECTION

This covers a range of computers from the 1970's to the present day, and text and number-based items like typewriters and calculators.



---
<!============================================>

WOULD YOU LIKE US TO PRESERVE AND INTERPRET ITEMS IN YOUR POSSESSION? THERE ARE STILL MANY PRINT-RELATED MACHINES AND ARTEFACTS WE DON'T HAVE.

DON'T DISCARD THEM BEFORE TALKING TO US !
---
<!===========================================>
---
<!==================================================> RETURN TO TOP OF COLLECTION OVERVIEW