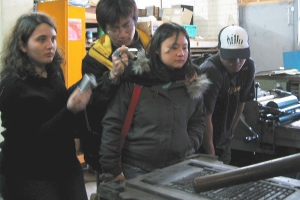 General Admission
for Trains, Buses, Parking, Map, contact details
see the contact page.
OPENING TIMES
THE MUSEUM IS OPEN, WITHOUT APPOINTMENT, ON SUNDAYS AND THURSDAYS, FROM 2 TO 5 PM.
GROUPS OF MORE THAN FOUR ARE REQUESTED TO ADVISE THEIR INTENTION, IF POSSIBLE.
See the contact page.
TOUR GROUPS (e.g. service clubs, school excursions) ARE POSSIBLE AT ANY TIME, BY APPOINTMENT.
SEE BELOW
EXCEPTIONS, SUCH AS HOLIDAY SEASON, PRIVATE FUNCTIONS INVOLVING THE WHOLE MUSEUM, AND INSUFFICIENT VOLUNTEERS WILL BE NOTIFIED, WHEN PRACTICABLE, ON THE HOME PAGE AND THIS PAGE.
VISITORS MUST READ AND UNDERSTAND OUR HEALTH AND SAFETY NOTICE AND MUST REGISTER IN OUR VISITORS' BOOK.
ENCLOSED FOOTWEAR IS RECOMMENDED. CHILDREN NOT ADMITTED UNLESS CLOSELY SUPERVISED.
TAKING A SHORT BREAK ...
HOLIDAY CLOSURE NOTICE:
Last open day before break: Sun 20 Dec 2015 [may close early]
First open day after break: Sun 17 Jan 2016
VISITS ARE POSSIBLE BY APPOINTMENT DURING THIS TIME.
APPOINTMENTS? email with your phone number and requirements and someone will call you.
Out-of-town visitors, especially welcome!
GROUP TOURS
SCHOOL GROUPS AND CITIZENS' CLUB GROUPS WELCOME BY APPOINTMENT ONLY, USUALLY ON NON-PUBLIC DAYS. SEE TOUR GROUPS, BELOW.

HISTORICAL NOTES

The Museum was totally closed from 1998 until 2004, when a limited service was started in part of our (then) new location at Moreland St.

More of the Museum then re-opened for public visits, classes for students of typography and the artist's access studio.

The Museum moved temporarily to 133 Cowper St in August 2010 but was closed again in January 2011 due to relocation to West Footscray. Getting the Show Room into a reasonable state for the public is still "a work in progress".
What you can see
Visitors are able to see various facets of typesetting and printing, including:
Gutenberg's invention of movable types,
Typesetting (by hand) with movable types,
Linotype machine (hot metal composition),
Ludlow machine (hot metal for large or fancy type),
Poster types (usu. wood) for large lettering,
engravings needed to print an illustration,
stereotypes (duplicates of typesettings),
the hand press as used by early printers,
the cylinder press (more modern process),
posters, books and other works printed in our studio by visiting artists,
books in our Library of Books as Artefacts, where the interest is not "Who wrote it?" but "Who printed it, and how?",
examples from our archival collections of thousands of artefacts and documents, illustrating the day-to-day work of the printing trade, and
a slide show on traditional printing and the Museum's collections and programs.
---
ADMISSION PRICES
From December 2014. (subject to variation)
Waged (Full Fare)
$15.00
Unwaged (Concession)
$10.00
Personal Tour Guide (individual/family group)
$22.00 per half hour
---
TOUR GROUPS
The Museum has welcomed groups of interested individuals from many kinds of organisation. These have included schools, seniors, service clubs, employee outings, even a car club or two.
Primary, secondary and tertiary students with "general interests" (as opposed to special interest in typography or printing) also take advantage of our tour program.
See the contact page to enquire.
The fee for group tours is $95 (tour guide for two hours) plus the appropriate admission for each person. There is no exact "cut-off" after two hours - if we're all enjoying it, visitors are welcome to stay on.
---
OTHER PROGRAMS
The Museum offers a range of educational and practical programs for practitioners and students in related fields.
All programs are designed to show what was involved in earlier ways of printing. Of great interest is the Gutenberg style of composing text with metal types, and the 20th century developments of machine composing (such as the Linotype).
The programs include the popular Graphic Students' Workshop, the Roots of Printing (Professional Development) Workshop and the "Two Days with Letterpress" experience. To read more, go to the Program Index page.
---
THE MUSEUM SHOP
BOOKS ABOUT PRINTING AND TYPOGRAPHY

BOOKS PRINTED BY LETTERPRESS (MANY ARE COLLECTORS ITEMS)

POSTERS, POEMS, LEAFLETS AND LIMITED EDITION ITEMS PRODUCED IN OUR ACCESS STUDIO OR SIMILAR FACILITIES ELSEWHERE.

FOUNTS OF METAL (HAND SET) TYPE AND SUNDRIES FOR LETTERPRESS

SAMPLE PACKETS OF HANDSET TYPES:
ALL PACKETS INCLUDE TYPES OF 6 PT AND 72 PT AND OTHER SIZES IN BETWEEN, IN A RANDOM SELECTION OF TYPEFACES.

---
Return to top