36 MORELAND STREET FOOTSCRAY :: P.O. BOX 555 :: TEL (03) 9689 7555
SNAP SHOTS, JUNE 2003
The Museum's new premises will be open to the public in the next few weeks. The Access Studio for artists and writers is ready now, and programs will soon be running for students of typography.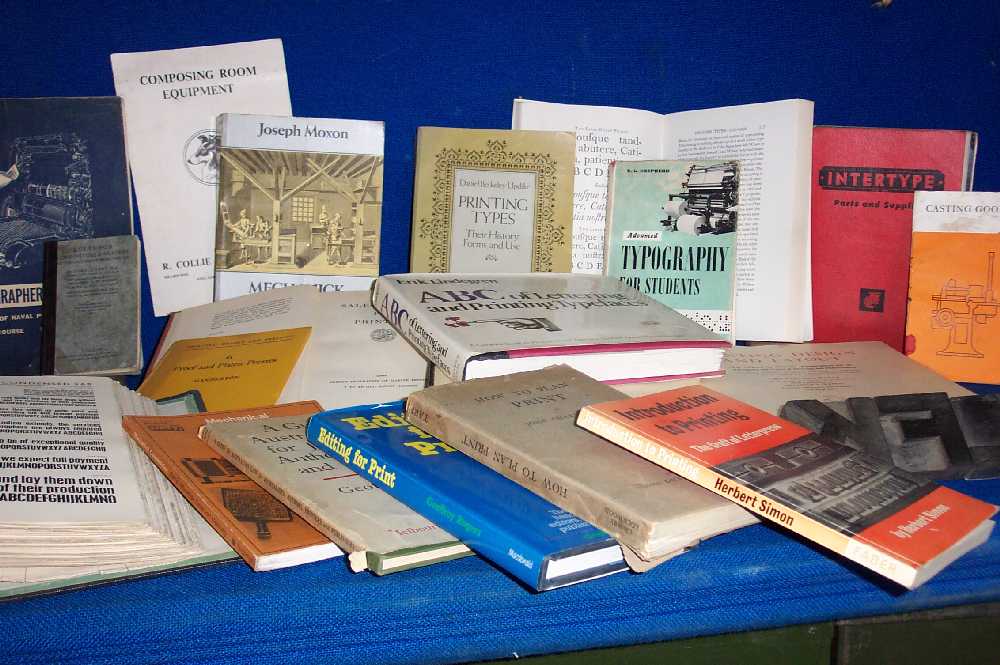 Examples from the Museum's library of books on printing, design, typesetting and related arts.

ENLARGEMENT AND DESCRIPTION
Linotype repairs: the keyboard assembly has been removed, showing what's behind.

Linotype detail: the gears which drive the star wheel.

A page trolley: moving typeset pages with ease.

ENLARGEMENT AND DESCRIPTION
Our Library of Books as Artefacts: not who wrote it? but who printed it?
FROM OUR
LIBRARY OF BOOKS AS ARTEFACTS:

THESE ITEMS PRINTED BY

CASSELL & CO
LONDON
BROWN PRIOR ANDERSON
MELBOURNE
HALSTEAD PRESS
SYDNEY
| | | |
| --- | --- | --- |
| Beautiful engraved artefacts: typecast ornament, CUB logo block. | | Photoengraved dragon with print |
So much for these selected items on display in the Museum's venue. They are fascinating and tell wonderful stories, but they are less than 5% of the Museum's world-unique collection. It is a matter of some grief that the rest, including the world's only large collection of typesetting machinery and the only collection of its kind of printing artefacts, are not being protected by the authorities or industry and are in danger of being scrapped.
THE 95% THAT'S IN STORAGE AND IN JEOPARDY . . .

ENLARGEMENT AND DESCRIPTION

<< View over some 20% of the Museum's collection of artefacts, boxed and palletted in the store. These artefacts will allow researchers a detailed view of what was being printed mid to late 20th century, and how it was printed.

ENLARGEMENT AND DESCRIPTION
Some of our thousands of stereotype matrices, from which stereotype plates were cast. Stereos (and electrotypes) were a way of making multiple copies of the same printing type or block.
The Museum is seeking assistance with the cost of protecting the stored collection for the next four years. Revenues should then be sufficient for ongoing storage. Without support, this world-class collection is almost certainly destined for destruction.