LETTERS AND STATEMENTS
''This is a Working Museum of Typography and Printing''
Opportunities for printers, designers, historians, students, booklovers/librarians, engineers, researchers, tourists and the naturally inquisitive.
---

LETTER OF SUPPORT FROM

George Gearside JP, President of the popular Penrith Museum of Printing and manager of a printing business. George points out that MMOP is the largest, most comprehensive and most important collection in Australia.

"We (Penrith), like so many other printing museums, feel the country's heritage would be far worse off without it . . . We welcome the prospect of a full-time museum serving a national function, that others could lean upon if required."

George's letter [PDF 60 k]
---

LETTER OF SUPPORT FROM

Nicole Wragg, Chair of Communication Design at Swinburne University. Nicole refers to the value of preserving the skills and tools of early and recent craftsmanship.

"It enables design students, communication professionals and the community to understand the history and the future of this strategic creative industry."

Nicole's letter [PDF 60 k]
---

LETTER TO MUSEUM FROM

John Magnik, teacher and executive at the RMIT printing school, Brunswick. John recounts his own experience with traditional printing and refers to its present-day value to him, then discusses the educational offerings of the Museum.

John goes on to compare the collection of this Museum with those of other, more famous, museums of printing. He concludes that MMOP's collection, although surpassing those of certain famous museums, is left to an undecided future. John regrets that MMOP has not received industry or government support and has needed to struggle for many years.

John's letter [PDF 60 k]
---

LETTER TO MUSEUM FROM

Dr. Derek Nuttall, (then) chairman of the
National Printing Heritage Trust (England) (in 2002)

Dr Nuttall, a historian of some note, had visited the Museum in 1998, as had his predecessor, so having some direct knowledge of the collection.

Dr Nuttall comments that worldwide some authorities tend to disregard the value of printing collections.

''Of international importance'' is how Dr. Nuttall describes the collection, considering that many items cannot be found elsewhere.

Dr. Nuttall's letter [PDF 72 k]
---

LETTER FROM

John Griffiths, (then) Senior Curator, Media Technologies,
The Science Museum, London, in 2002

Mr Griffiths states that the Museum's diverse collection will have value for a wide range of audiences, and there will be uses that are not foreseen. Preservation of traditional printing skills in effect provides social capital. He laments that across the globe, preservation of printing heritage receives little energy.

John's letter [PDF 55 k]
---
LETTER TO MUSEUM FROM
Nigel Roche, principal of St Bride Printing Library, London, in 2002. The Library is recognised as the world's leading authority on the history of printing and attracts researchers and supporters from around the world.
''Please allow me to say how disturbed I am to hear that the material which you have collected is now in jeopardy for want of understanding of its significance.
''From the description which I have seen, the collection which you have put together is more comprehensive than anything we have here in the UK or indeed in Europe. It offers the only possibility of reconstructing a proper printing office for a newspaper or other substantial printing works, remaining in any country.
In my opinion, these collections, both the machinery and all the artefacts and archives, are worthy of recognition by your government and by industry.''
---

OPEN LETTER FROM

Stan Nelson, Printing and Typefounding expert,
(then at) Smithsonian Institution, Washington, 2002.

Mr Nelson's comments were a discussion on the value to future generations of conserving our industrial heritage.

He also stated clearly that there are no museums known to him with collections of artefacts like standing jobs and engravings showing the body of work in progress, nor of a realistic number of linecasting machines to simulate a major composing room.

Stan's letter [PDF 65 k]
---

OPEN LETTER TO DESIGNERS FROM

Kirsty Eckard, [then] third-year Communication Design student at Swinburne University
[ kirsty.eckard@gmail.com ].

Kirsty visited the Museum and found that she understood typography somewhat better when she understood letterpress typesetting. "It is one thing to be taught about typography, but it is an entirely different thing to be able to see it and touch it" she says, encouraging all designers to do likewise and gain some "priceless" knowledge.

Kirsty's letter [PDF 50 k]
---

OPEN LETTER FROM

Cheryl Hyams, a graphic designer visiting Australia from England whose training at Edinburgh College of Art involved letterpress typesetting and printing.

Whilst in Melbourne Cheryl was pleased to discover that the Melbourne Museum of Printing has an extensive letterpress workshop and that local design students were making full use of it.

She says:"I cannot stress enough how important such training is to a graphic designer and was happy to learn that the Melbourne Museum of printing is used by local university and high school students for workshops on traditional printing processes."

Having access to this type of machinery at university was very valuable to Cheryl and she insists that more students should be benefitting from this museum. She says "it was a fundamental part of our graphic design training and I value the knowledge that I learnt from it."

Cheryl's letter [PDF 75 k]
---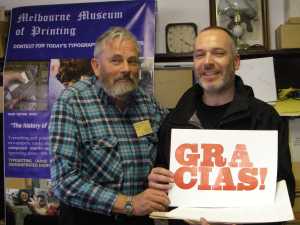 OPEN LETTER FROM

Patrick Thomas, graphic designer and lecturer of international repute. Patrick toured Australia in 2008 as AGDA international speaker, and while in Melbourne was introduced to this Museum by a local academic.

Patrick laments the loss of traditional printing knowledge and equipment in Spain, his adopted country and says it has left "a huge gap" in Spanish design education and culture. Referring to this Museum he says "Once it has gone it can never be reassembled: please do not let the same thing happen in Melbourne".

In the picture, Museum Curator Michael Isaachsen receives a thank-you note from Patrick Thomas (right) who has just printed it by hand in the Museum's Access Studio.

Patrick's letter [PDF 85 k]
---
LETTER TO MUSEUM FROM
Martin Stanley, lecturer and Acting HoD in Printmaking at the National Art School in Sydney NSW. Martin escorted 25 students to Melbourne in 2008 and attended a workshop at the Museum.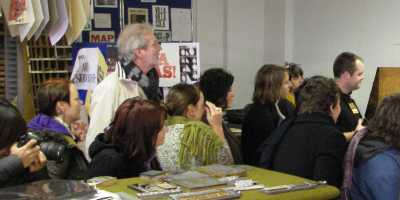 Martin writes that there is no similar facility in Sydney and that at least two of those students are intending to revisit the Museum to use the studio and Martin will visit again for research.

He describes the Museum as a unique resource: "It is essential for it to thrive and continue providing education and research access in fine printing."

Martin's letter [PDF 100 k]
---

OPEN LETTER FROM

Tobias Frere-Jones, renowned typographer and graphic designer. New York based Frere-Jones, as Director of Typography at [then] Hoefler & Frere-Jones, Inc., has established a reputation as a leader in design of digital typefaces, having major publishers as clients. He is well known in design circles around the world and is in demand as a speaker on typographic issues.

Mr. Frere-Jones knows Melbourne well and knows its reputation as a centre of design and design education. He was a presenter at the 2009 "AG Ideas" conference and earlier events.

On one such occasion, the Museum was honoured to receive a visit from Mr. Frere-Jones, after which he was quoted as referring to the importance of ensuring the ongoing operation of the Museum. He considers its collection to be a priceless resource.

Tobias' letter [PDF 150 k]
---

OPEN LETTER FROM

Siobhan Donohue, graphic designer. New York trained, Siobhan practiced in North America and Europe before moving to Victoria from where she continues with her world-wide clientele. Traditional printing (such as letterpress) has long been part of Siobhan's practice and she notes the resurgent interest in letterpress. MMOP impressed her as a museum that provides both training and letterpress production.

Siobhan, helpfully, goes on to quote a number of educators in the international arena on the role of letterpress in their teaching or understanding.

Siobhan's letter [PDF 100 k]
---
QUOTATION FROM
Russell Kennedy, senior lecturer at Monash University and a leader in international graphic design organisations, was interviewed by a Melbourne reporter. He said that 1200 of his students had benefitted from this Museum over the past 15 years.
''Internationally, it's one of those unique resources. I travel a fair bit and I've never seen anything like it. You could go to any museum and see a printing press, but this is learning; it's alive and working,'' he said.
QUOTE BY COURTESY OF REPORTER DINAH ARNDT OF FAIRFAX COMMUNITY NETWORK.
---
QUOTATION FROM
Andrew Kean, lecturer at Swinburne University, was interviewed by a Melbourne reporter. He said that the university was hoping to integrate student visits to the museum [for the all-day workshop series] into its (graphic design) curriculum.
''The significant thing about the museum is the workshop capability. We hope to develop a particular subject or unit beginning next year and into the foreseeable future so our students can do a hands-on elective,'' he said.
QUOTE BY COURTESY OF REPORTER DINAH ARNDT OF FAIRFAX COMMUNITY NETWORK.
---
QUOTATION FROM
Warren Taylor, graphic artist and curator of 'The Narrows' art gallery in the city, was interviewed by a Melbourne reporter. He said that he had done projects at the Museum's Access Studio and they had been well received. The projects, usually done with help of graphic arts students keen to learn, involved hand typesetting and hand printing of posters and experimental works.
''The hand-made element is really interesting. There's so much printed matter that's mass-produced, it really stands out,'' he said.
QUOTE BY COURTESY OF REPORTER DINAH ARNDT OF FAIRFAX COMMUNITY NETWORK.
---

LETTER TO HIS LOCAL MP FROM

The Late Michael Gaughan, a former printer who visited the Museum seeking to work as a volunteer in 2002. At the time, the Museum was unable to find affordable storage to replace a store that was to be demolished. Michael appreciated how the Museum would recreate the complete printing works, although he was apprehensive of the risk that the collection could be lost.

Michael Gaughan's letter [PDF 70 k]
---
LETTER TO GOVERNMENT FROM
Jim Reid, Secretary of the Printing Division,
AMWU (printing trade union) in 2002
''There is a large slice of Victoria's printing history here.
''(Its loss) will be a loss to the whole of Victoria. As far as I know, there are no firms left with this kind of material intact.
''It is also relevant that the museum plans to recreate the workplace atmosphere, with not just a machine or two but the large numbers of machines and other items which would have been found in typical workplaces.
''The thousands of pieces of type setting and similar items are, in a way, a tribute to former tradesmen in a wide range of skills.
''I am sure that society . . . will greatly appeciate the dedication of Mr Isaachsen who, early on, realised that no one was going to protect these irreplaceable items and took it upon himself to do so.''
---
LETTER TO MUSEUM FROM
Dr Stephen Foster, (then) General Manager(Collections),
National Museum of Australia, in 2002
'' . . . I am aware of the extent (of the collection) and its importance in documenting the technology and the history of the printing industry in Australia, particularly in Victoria
''Together, the 200 machines, dating from 1849 to 1980, the thousands of fonts of handset type, tens of thousands of artefacts relating to individual printing jobs, and the associated office equipment make up one of the largest and most important collections of its type in Australia. It has wonderful potential for use in educational programs...''
---
LETTER (2002) TO MUSEUM FROM
Ian Butterworth, Engineering Manager at Maribyrnong City Council
''These items were saved from destruction by Mr Isaachsen when the industry was restructuring in the period since 1960 . . .
''I was very impressed with the rich collection of fascinating pieces which illustrate the work of Melbourne printers, mostly now closed.
''I understand that Mr Isaachsen and his family have used up most of their time and money to achieve this.
''There were a number of impressive posters and other works actually printed in the Museum by visiting artists. Some of these had been commissioned by Council''
---
LETTER TO MUSEUM FROM
Councillor Bill Horrocks, Mayor of the City of Maribyrnong in 2002
''(Mr Isaachsen) has been the only person in Melbourne to save and protect the last of these items of printing heritage, at his own cost. He believes that they will benefit future generations of students, public and scholarly researchers, and I agree with this view.
''It would be most unfortunate if, for lack of a temporary storage facility, the collection were to be destroyed or dispersed''
---
MMOP IN BLOGS
There are of course many links to this Museum on the web. A lot are from universities and historical organisations around the world, and usually just a few words and a link. But there are also a number of bloggers and flikr members who feature the Museum in some way.
Here are a couple of relevant links. Then there's the special page of even more compelling "REFEREE LINKS" below.
---
PRESENTATION ZEN BLOG
Design Guru Garr Reynolds hold forth from time to time on issues of design and presentation.
Here, Garr wants designers to slow down a bit: ''Probably the greatest advantage to learning letterpress is simply that it forces you to slow down. When you slow down you can think''.
Garr suggests that we may benefit . . by looking to the past and even using tools of the past to get a good grounding in design and type. He specifically refers to letterpress and movable type: '' . . while I don't recommend that we all become professional typographers, it is in our interest to deepen our knowledge and understanding of the rich art of typography''.
This item includes links to some interesting YouTube clips on letterpress including one featuring the legendary David Dabner.
---
HOLLABEE BLOG
Just after the visit of a group of lady craft workers, a search found three blogs referring to their visit.
Hollabee's post produced a few comments as well as mention of her flikr page with pictures she took at the Museum.
Hollabee's flikr letterpress page mainly at the Museum (21 pix).

---
BLOGS show why visitors have appreciated their experience.
Several talented people have made VIDEO CLIPS.
Flickr, Instagram and similar sites have been populated by lovers of MMOP.
Please see our Referee Links
---