| | | |
| --- | --- | --- |
| Melbourne Museum of Printing | Australia's working and teaching museum of typography and printing located at Footscray, Victoria. Specialising in retention of traditional printing, both the equipment and the knowledge. | |
NOTE: ALL TEXT AND PHOTOGRAPHS ARE COPYRIGHT. All intending users please see our copyright notice page.
---
Enlarged Picture from the Museum's TYPESETTINGS GALLERY
WHEN YOU REACH THE BOTTOM OF THIS FILE, YOU CAN CLICK A LINK BACK TO THE FIRST ENLARGEMENT. [THIS IS THE LAST.] YOU CAN RETURN FROM ANY ENLARGEMENT BACK TO THE MAIN DOCUMENT OR BACK TO THE GALLERY INDEX.
[picture in document]
---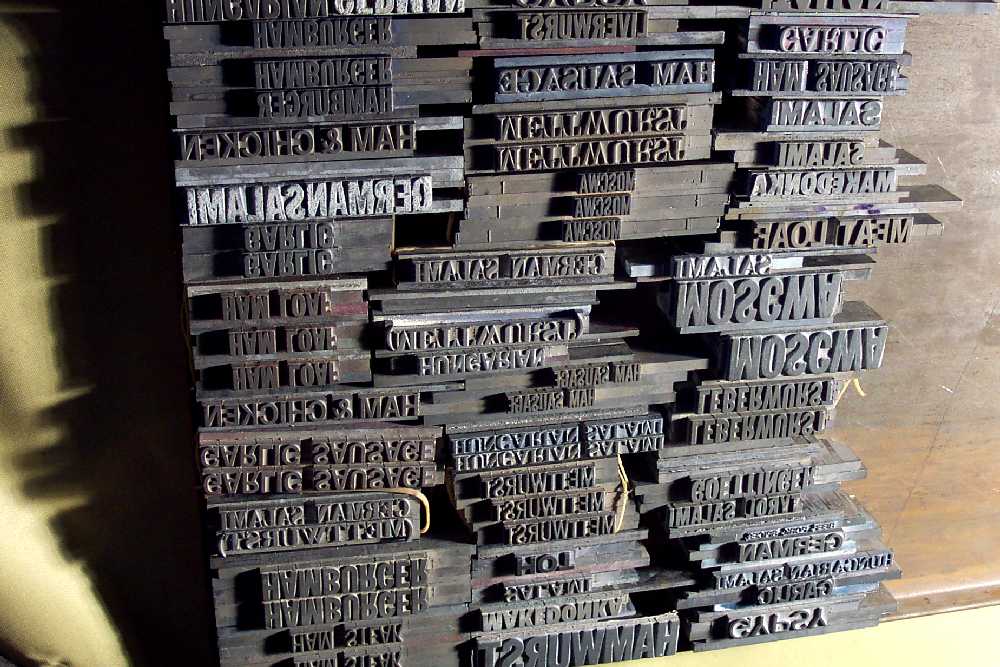 This galley is holding Ludlow slugs on hand at a printery where individual lines were needed rather than substantial settings. When the printer retired, the Museum acquired his standing jobs and standing lines, printing press and other memorabilia.
The lines represent the various kinds of sausage produced by this printer's clients. The sausage casings were printed in this works on a small stop-cylinder press (also in the collection).
---
| | |
| --- | --- |
| | Look up printers' measurements, machinery, materials in our Glossary of Typography. Find the glossary on the MUSEUM'S HOME PAGE (link at top of this page). |
---
---
Return to Top