| | | |
| --- | --- | --- |
| Melbourne Museum of Printing | Australia's working and teaching museum of typography and printing located at Footscray, Victoria. Specialising in retention of traditional printing, both the equipment and the knowledge. | |
NOTE: ALL TEXT AND PHOTOGRAPHS ARE COPYRIGHT. All intending users please see our copyright notice page.
---
Enlarged Picture from the Museum's TYPESETTINGS GALLERY
WHEN YOU REACH THE BOTTOM OF THIS FILE, YOU CAN CLICK A LINK TO THE NEXT ENLARGEMENT, THEN THE NEXT, FINALLY BACK TO THE FIRST. YOU CAN RETURN FROM ANY ENLARGEMENT BACK TO THE MAIN DOCUMENT OR BACK TO THE GALLERY INDEX.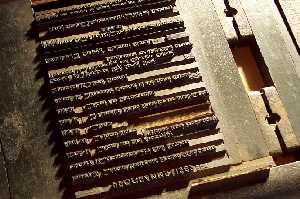 [picture in document]
---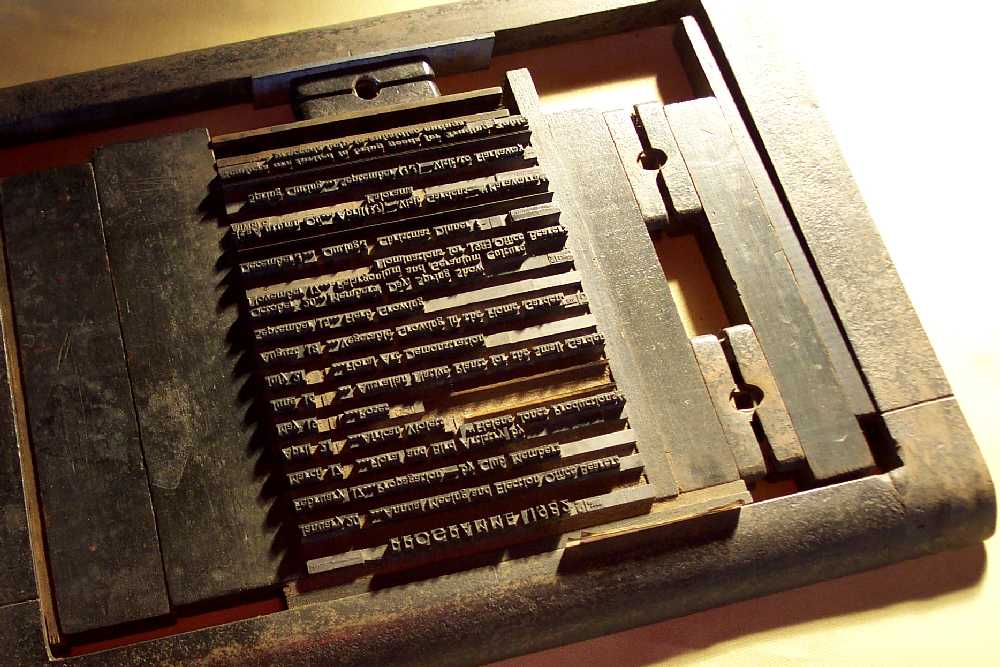 This typesetting, untypically, is preserved in a chase, the frame into which type is placed and locked prior to printing.
Along the left-hand and right-hand edges of the lines of type are strips of wooden furniture. Further to the right are two mechanical quoins, another strip of furniture then the right-hand edge of the chase. At the top (actually the bottom of the document) can be seen a strip of lightweight metal furniture (shaped like a steel beam) and another quoin.
The lower edge of the chase, along the bottom of the picture has the rounded shape typical of chases for hand-fed platen presses of the late 19th century.
---
| | |
| --- | --- |
| | Look up printers' measurements, machinery, materials in our Glossary of Typography. Find the glossary on the MUSEUM'S HOME PAGE (link at top of this page). |
---
---
Return to Top