| | | |
| --- | --- | --- |
| Melbourne Museum of Printing | Australia's working and teaching museum of typography and printing located at Footscray, Victoria. Specialising in retention of traditional printing, both the equipment and the knowledge. | |
NOTE: ALL TEXT AND PHOTOGRAPHS ARE COPYRIGHT. All intending users please see our copyright notice page.
---
Enlarged Picture from the Museum's TYPESETTINGS GALLERY
WHEN YOU REACH THE BOTTOM OF THIS FILE, YOU CAN CLICK A LINK TO THE NEXT ENLARGEMENT, THEN THE NEXT, FINALLY BACK TO THE FIRST. YOU CAN RETURN FROM ANY ENLARGEMENT BACK TO THE MAIN DOCUMENT OR BACK TO THE GALLERY INDEX.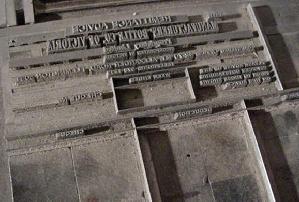 [picture in document]
---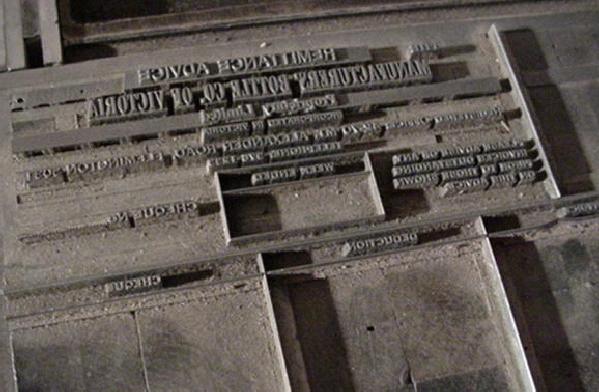 This document is another example of a rule forme. Most of these lines are slugs, that is they were composed on a linecaster of one kind or another. Some are obviously Linotype slugs and others Ludlow slugs.
The lines where the blank top face of the slug is just below the typeface are Linotype slugs. The top line (Remittance Advice) is one such. For a distance at each end of this slug, it has been cut down to minimise the chance of unwanted inking or impression. That is more likely to happen at the corners of the job.
The company name is composed in hand-set type, the only such line in this job.
The other lines are on Ludlow slugs. On the Ludlow system the spaces between words and at the blank ends of the slug are lower than on Linotype. In fact they are the same height as the leads which provide spacing between the lines.
Below the box headings (INVOICE, DEDUCTIONS, CHEQUE) the large blank areas between the rules are filled out with a kind of spacing known as quotations. These are typecast spacings, available from typefounders in sizes measured in pica multiples such as 2x2, 2x4, 4x5, 6x6 and sometimes larger. The ones here are 6x6 and 6x5 picas.
---
| | |
| --- | --- |
| | Look up printers' measurements, machinery, materials in our Glossary of Typography. Find the glossary on the MUSEUM'S HOME PAGE (link at top of this page). |
---
---
Return to Top