| | | |
| --- | --- | --- |
| Melbourne Museum of Printing | Australia's working and teaching museum of typography and printing located at Footscray, Victoria. Specialising in retention of traditional printing, both the equipment and the knowledge. | |
NOTE: ALL TEXT AND PHOTOGRAPHS ARE COPYRIGHT. All intending users please see our copyright notice page.
---
Enlarged Picture from the Museum's TYPESETTINGS GALLERY
WHEN YOU REACH THE BOTTOM OF THIS FILE, YOU CAN CLICK A LINK TO THE NEXT ENLARGEMENT, THEN THE NEXT, FINALLY BACK TO THE FIRST. YOU CAN RETURN FROM ANY ENLARGEMENT BACK TO THE MAIN DOCUMENT OR BACK TO THE GALLERY INDEX.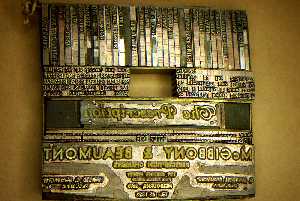 [picture in document]
---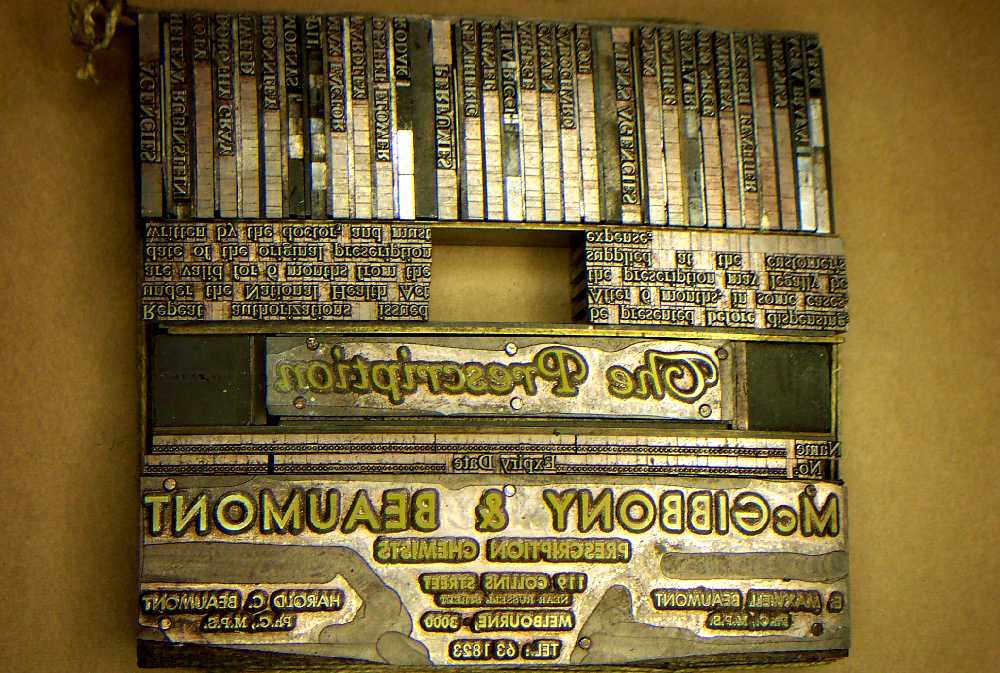 Typesettings presumably for a pharmacist's folder to be issued with dispensed medicines.
There are two line engravings of text, one with name and address, the other the document title.
The Linotyped text includes a long paragraph about repeats and a column of information about products. Interesting to note that below each of the centred headings is a rule. The strip of rule, cut to the same length as the slugs, has its face cut away to match the length of the text on its respective slug.
The layout of the job is not preserved: to reprint, it would need to be laid out and spacing added.
The whole bundle is tied up with page cord, was then wrapped in newspaper, then in brown paper and a proof of the job taped on. The proof is interesting, in that it has been printed twice, one print on top of the other and facing the opposite direction.
---
| | |
| --- | --- |
| | Look up printers' measurements, machinery, materials in our Glossary of Typography. Find the glossary on the MUSEUM'S HOME PAGE (link at top of this page). |
---
---
Return to Top