| | | |
| --- | --- | --- |
| Melbourne Museum of Printing | Australia's working and teaching museum of typography and printing located at Footscray, Victoria. Specialising in retention of traditional printing, both the equipment and the knowledge. | |
NOTE: ALL TEXT AND PHOTOGRAPHS ARE COPYRIGHT. All intending users please see our copyright notice page.
---
Enlarged Picture from the Museum's TYPESETTINGS GALLERY
WHEN YOU REACH THE BOTTOM OF THIS FILE, YOU CAN CLICK A LINK TO THE NEXT ENLARGEMENT, THEN THE NEXT, FINALLY BACK TO THE FIRST. YOU CAN RETURN FROM ANY ENLARGEMENT BACK TO THE MAIN DOCUMENT OR BACK TO THE GALLERY INDEX.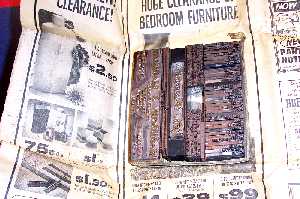 [picture in document]
---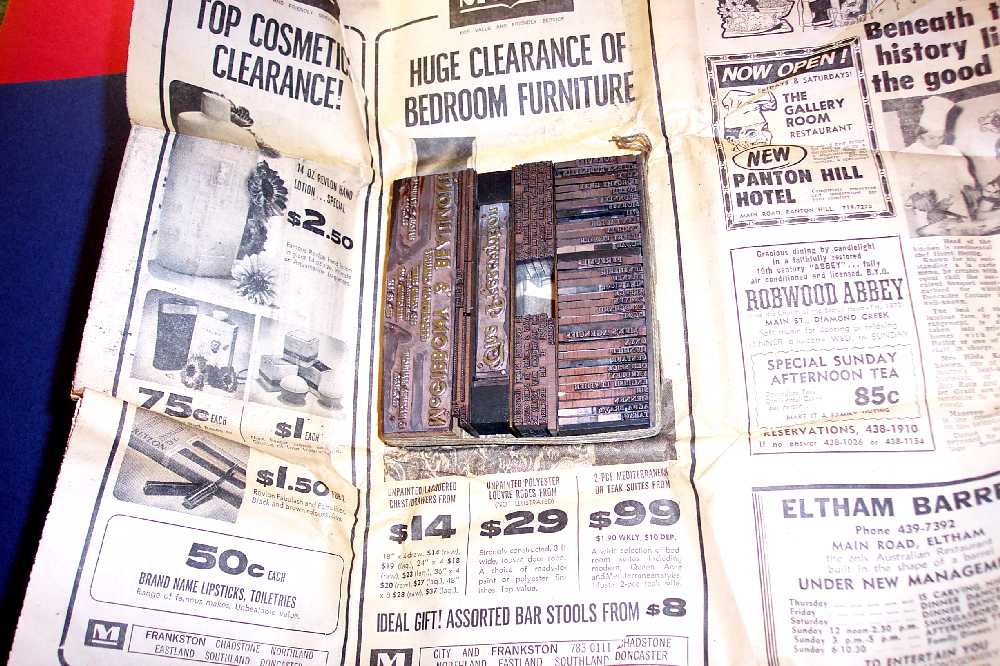 Saved typesettings, if not just tied with page cord and stored on a galley, are often wrapped in paper, typically newspaper for storage. Often a proof of the type is attached to the parcel.
The newspapers used for wrapping are usually quite interesting. They help to date the typesetting, and in many cases include interesting typographical features especially if from the days of hot-metal newspaper composition. This particular parcel includes a number of portions of type for a pharmacy. The newspaper is a suburban weekly paper from 1972.
---
| | |
| --- | --- |
| | Look up printers' measurements, machinery, materials in our Glossary of Typography. Find the glossary on the MUSEUM'S HOME PAGE (link at top of this page). |
---
---
Return to Top