| | | |
| --- | --- | --- |
| Melbourne Museum of Printing | Australia's working and teaching museum of typography and printing located at Footscray, Victoria. Specialising in retention of traditional printing, both the equipment and the knowledge. | |
NOTE: ALL TEXT AND PHOTOGRAPHS ARE COPYRIGHT. All intending users please see our copyright notice page.
---
Enlarged Picture from the Museum's TYPESETTINGS GALLERY
WHEN YOU REACH THE BOTTOM OF THIS FILE, YOU CAN CLICK A LINK TO THE NEXT ENLARGEMENT, THEN THE NEXT, FINALLY BACK TO THE FIRST. YOU CAN RETURN FROM ANY ENLARGEMENT BACK TO THE MAIN DOCUMENT OR BACK TO THE GALLERY INDEX.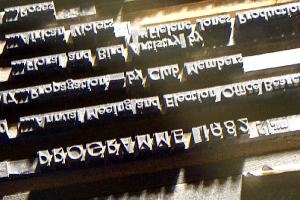 [picture in document]
---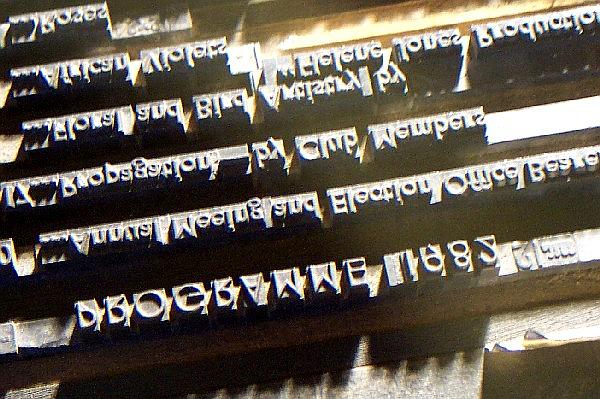 This closer shot shows the individual letters and spacing used in this document.
Note that some of the larger spacing pieces have lettering cast into their top surface. This will not print: it is too low. The piece just to the right of the top line (1982) has the legend: SB&Co 12 which indicates the manufacturer (Stephenson, Blake & Co) and the body size (12 points). It is a 12 x 24 quad.
Between each line in the setting is a strip of spacing. Typically these would be leads, but most or all of those in this example are wooden strips called reglets. Reglets are lower in height than the spacing used within the line. Spaces (used mainly between words) and quads (used mainly to quickly fill longer gaps) are around 12 points below the typeface. Leads are normally around that figure, but reglets are about 20 points below. Interestingly, some lines in this shot, where the text is very short, have been finished off with a piece of reglet instead of quadding the line with quads.
---
| | |
| --- | --- |
| | Look up printers' measurements, machinery, materials in our Glossary of Typography. Find the glossary on the MUSEUM'S HOME PAGE (link at top of this page). |
---
---
Return to Top