| | | |
| --- | --- | --- |
| Melbourne Museum of Printing | Australia's working and teaching museum of typography and printing located at Footscray, Victoria. Specialising in retention of traditional printing, both the equipment and the knowledge. | |
NOTE: ALL TEXT AND PHOTOGRAPHS ARE COPYRIGHT. All intending users please see our copyright notice page.
---
Enlarged Picture from the Museum's GALLERY OF STEREOTYPES
WHEN YOU REACH THE BOTTOM OF THIS FILE, YOU CAN CLICK A LINK TO THE NEXT ENLARGEMENT, THEN THE NEXT, FINALLY BACK TO THE FIRST. YOU CAN RETURN FROM ANY ENLARGEMENT BACK TO THE MAIN DOCUMENT OR BACK TO THE GALLERY INDEX.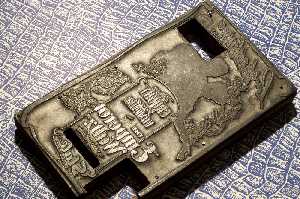 [picture in document]
---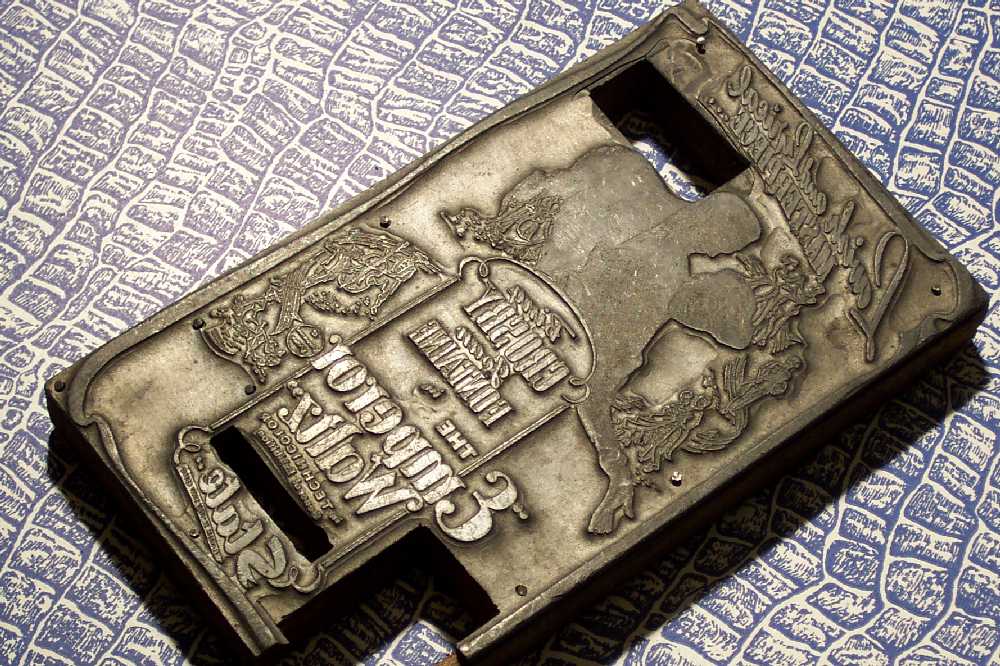 This stereotype is one of dozens of copies of an original engraved printing plate designed by an artist. The stereotypes would have been circulated to many newspapers.
The plate has been pierced for type in three places. These piercings allow for insertion of typesetting (in hand-set or Linotype) giving details which might vary. Unfortunately one of the piercings appears to have broken away the decorative border.
This proof of the stereotype was made in the Museum's Access Studio where artists, writers and other interested persons may print anything they wish by traditional methods. Researchers may use the studio to print from typeset material they are researching.
The impression is visible in five places of the rising pins. The pins, or tacks, would in normal use be hammered back into place if they started to rise during printing.
Unfortunately, as the Museum has not attracted sponsorship to meet the cost of storage of the archival collection, many stereotypes and other parts of the collection are facing an uncertain future.
---
| | |
| --- | --- |
| | Look up printers' measurements, machinery, materials in our Glossary of Typography. Find the glossary on the MUSEUM'S HOME PAGE (link at top of this page). |
---
---
Return to Top