| | | |
| --- | --- | --- |
| Melbourne Museum of Printing | Australia's working and teaching museum of typography and printing located at Footscray, Victoria. Specialising in retention of traditional printing, both the equipment and the knowledge. | |
NOTE: ALL TEXT AND PHOTOGRAPHS ARE COPYRIGHT. All intending users please see our copyright notice page.
---
Enlarged Picture from the Museum's GALLERY OF STEREOTYPES
WHEN YOU REACH THE BOTTOM OF THIS FILE, YOU CAN CLICK A LINK TO THE NEXT ENLARGEMENT, THEN THE NEXT, FINALLY BACK TO THE FIRST. YOU CAN RETURN FROM ANY ENLARGEMENT BACK TO THE MAIN DOCUMENT OR BACK TO THE GALLERY INDEX.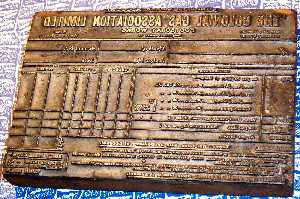 [picture in document]
---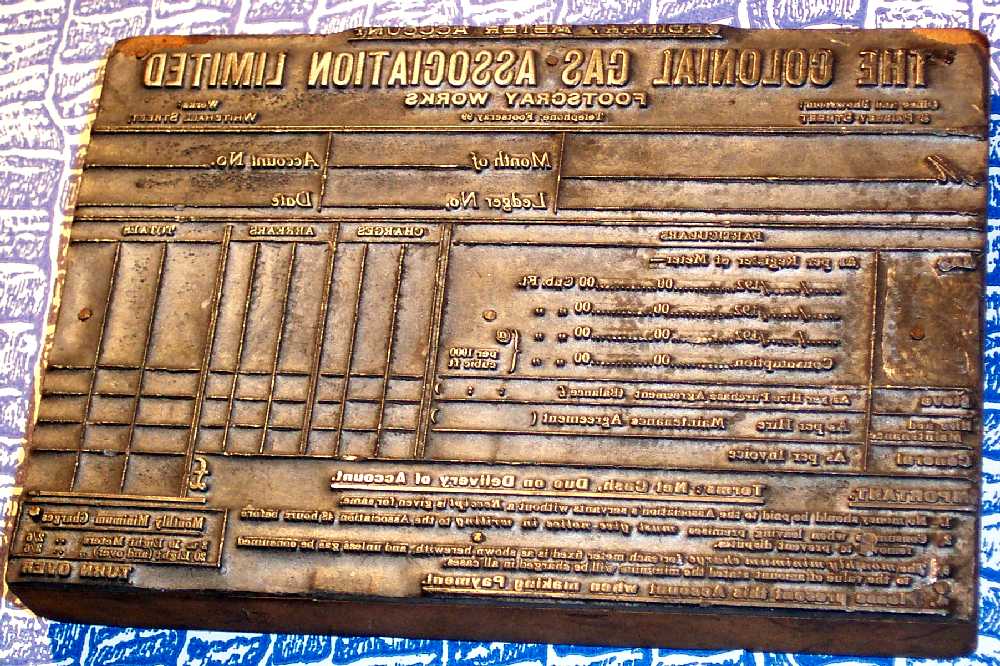 This stereotype of a business form would have been made to permit printing of a greater number of copies than would be possible from the original typesetting. It is also likely that two copies of the form (at least) would be printed on the one page, requiring multiple stereotype plates to be made.
The original from which the stereotype was moulded would have been made up from handset type and pieces of brass rule, as well, of course, as copious quantities of spacing material.
This picture shows the block as a coppery colour. This is not accurate, but due to poor lighting. It is a dull grey colour.
This proof of the stereotype was made in the Museum's Access Studio where artists, writers and other interested persons may print anything they wish by traditional methods. Researchers may use the studio to print from typeset material they are researching.
For those not used to it, the currency symbol is the pound sign formerly used in Australia (and of course still in use in the UK). The money area is divided into three columns, for pounds, shillings and pence.
Also of note:
the @ (at) symbol often used in business forms to show a unit price.
the old style of telephone number "Footscray 99" indicating line number 99 on the manual telephone exchange at the Footscray Post Office.
the use (six times) of a pair of commas to indicate ditto meaning the same information as stated in the line above (namely cubic feet, a measure of gas usage). Later style tended to use double close quotations as ditto marks.
the use of two inconsistent solidus symbols which differ from the other four in the date area of the form. Solidus is the old name (meaning shilling) for what we now generally call a slash.
---
| | |
| --- | --- |
| | Look up printers' measurements, machinery, materials in our Glossary of Typography. Find the glossary on the MUSEUM'S HOME PAGE (link at top of this page). |
---
---
Return to Top