| | | |
| --- | --- | --- |
| Melbourne Museum of Printing | Australia's working and teaching museum of typography and printing located at Footscray, Victoria. Specialising in retention of traditional printing, both the equipment and the knowledge. | |
NOTE: ALL TEXT AND PHOTOGRAPHS ARE COPYRIGHT. All intending users please see our copyright notice page.
---
Enlarged Picture from the Museum's GALLERY OF STEREOTYPES
WHEN YOU REACH THE BOTTOM OF THIS FILE, YOU CAN CLICK A LINK TO THE NEXT ENLARGEMENT, THEN THE NEXT, FINALLY BACK TO THE FIRST. YOU CAN RETURN FROM ANY ENLARGEMENT BACK TO THE MAIN DOCUMENT OR BACK TO THE GALLERY INDEX.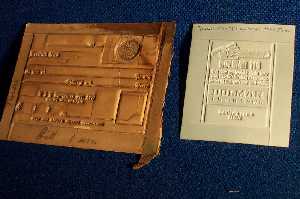 [picture in document]
---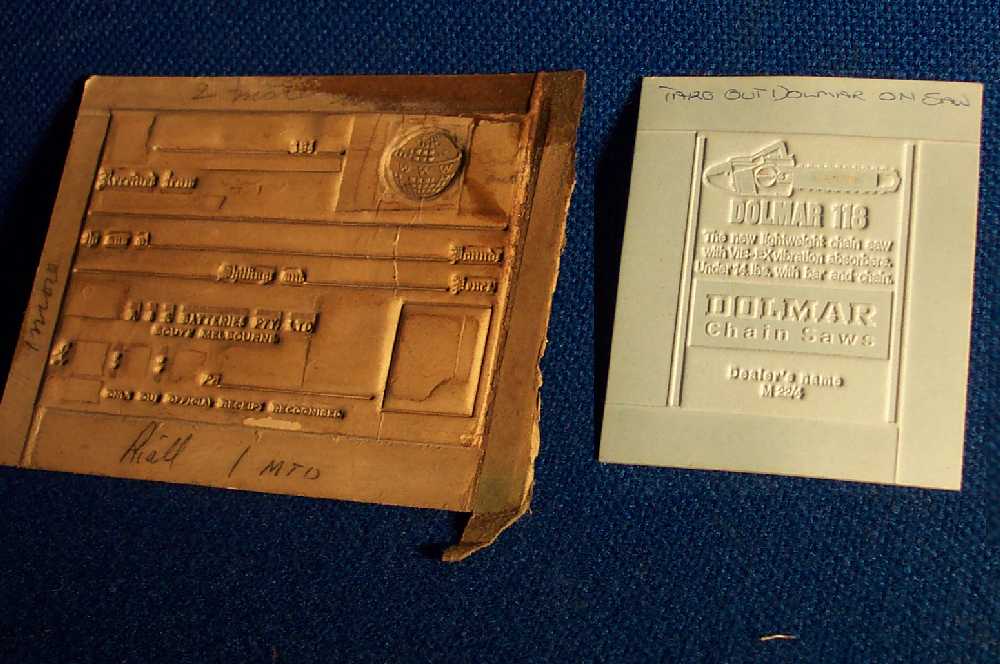 The stereotype matrix is the intermediate artefact between the type forme or engraving and the end product, the stereotype plate.
The matrix is produced by moulding a paper-like material over the type forme, usually under heat and pressure.
Note the optical illusion which makes it hard to tell from the photo whether a feature is raised or depressed. All type characters except where in a reversed box are in fact depressed into the material. The only reversed box is towards the bottom of the right-hand matrix: the box itself is depressed and the type raised. And all the logo details such as the saw are depressed.
The stereo plate would then be made from the matrix by pouring molten type-metal into a stereotype moulding box within which the matrix was located.
The mat [matrix] on the left was recovered from a suburban printer around 1982, and is a receipt form. It would have been set in type once, and duplicates made to allow printing perhaps three receipts per page. From the details it seems to be from the 1940's and the money amounts are in pounds, shillings and pence. NOTE THE INTERESTING LOGO: were these battery makers the first to use the web?
The mat on the right is an ad for a chain saw. It appears not to have been used. Advertising agencies often had multiple mats made and circulated to printers. Where the words Dealer's name appear, the plate would be cut away and the printer would insert type (handset or linotype slug) with the name of the firm selling the product locally.
The Melbourne Museum of Printing has stereo mats and stereo plates from many printers, covering a wide range of printed products and images. In many cases, the design of the stereotyped document was the work of an advertising agency.
---
| | |
| --- | --- |
| | Look up printers' measurements, machinery, materials in our Glossary of Typography. Find the glossary on the MUSEUM'S HOME PAGE (link at top of this page). |
---
---
Return to Top