| | | |
| --- | --- | --- |
| Melbourne Museum of Printing | Australia's working and teaching museum of typography and printing located at Footscray, Victoria. Specialising in retention of traditional printing, both the equipment and the knowledge. | |
NOTE: ALL TEXT AND PHOTOGRAPHS ARE COPYRIGHT. All intending users please see our copyright notice page.
---
Enlarged Picture from the Museum's GALLERY OF STEREOTYPES
WHEN YOU REACH THE BOTTOM OF THIS FILE [THIS IS THE LAST FILE], YOU CAN CLICK A LINK BACK TO THE FIRST. YOU CAN RETURN FROM ANY ENLARGEMENT BACK TO THE MAIN DOCUMENT OR BACK TO THE GALLERY INDEX.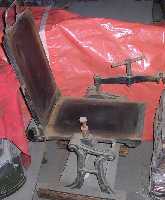 [picture in document]
---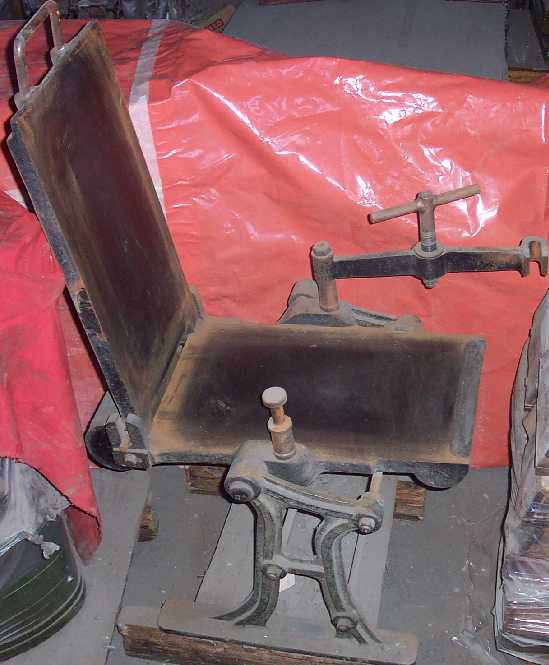 This cast-iron device provides, when ready for use, a cavity of the size to produce a stereotype plate.
With the top cover open, the stereotype matrix [mat] is placed on the bed, with a sheet of strong paper pasted onto it to prevent metal running under. Stereotyper's sizing tongs are placed around the edge of the mat to limit the size of the plate, then the top is closed and locked. A ladle of hot metal is poured into the cavity and solidifies very quickly producing a plate.
Many printers possessed one of these casting boxes, even if they lacked the means of producing a mat. Mats would arrive from their clients or from advertising agencies and the printer was expected to cast them. In small, occasional usage, they would take hot metal from their Linotype machine or its remelting pot rather than using a separate pot with the slightly harder metal recommended for stereos.
---
A typical remelt pot (crucible) as used in a printery with a Linotype system. Some larger pots have a pouring tap (outlet) at the bottom of the pot: this one needed a large ladle to make ingots of remelted typemetal. A small ladle would be used in most cases for casting a stereotype plate.
---
| | |
| --- | --- |
| | Look up printers' measurements, machinery, materials in our Glossary of Typography. Find the glossary on the MUSEUM'S HOME PAGE (link at top of this page). |
---
---
Return to Top