| | | |
| --- | --- | --- |
| Melbourne Museum of Printing | Australia's working and teaching museum of typography and printing located at Footscray, Victoria. Specialising in retention of traditional printing, both the equipment and the knowledge. | |
NOTE: ALL TEXT AND PHOTOGRAPHS ARE COPYRIGHT. All intending users please see our copyright notice page.
---
Enlarged Picture from the Museum's RE-ENACTMENT GALLERY
WHEN YOU REACH THE BOTTOM OF THIS FILE, YOU CAN CLICK A LINK TO THE NEXT ENLARGEMENT, THEN THE NEXT, FINALLY BACK TO THE FIRST. YOU CAN RETURN FROM ANY ENLARGEMENT BACK TO THE MAIN DOCUMENT OR BACK TO THE GALLERY INDEX.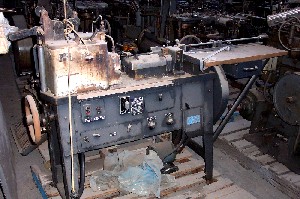 [picture in document]
---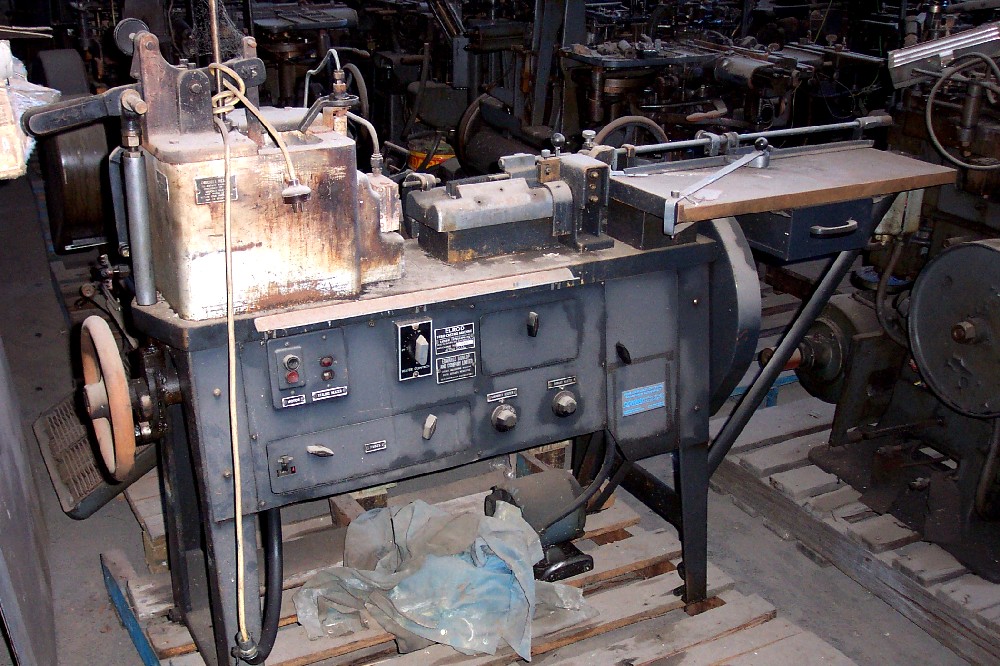 Letterpress composition requires the use of strip materials for spacing between lines (generally called leads or leading) and for printing straight lines as separators or borders (generally called rules). Lead, leading in this context, is pronounced led, ledding.
A strip caster like this Elrod produces leads and rules by extrusion. The thickness of the extruded section, measured in printers' points, ranges from one point up to 36 pts. Leads are strips lower than type height and so, hopefully, will not receive ink nor make an impression. Rules, on the other hand, are made type high and so will print.
There are many kinds of rule: the width of the printed line may be less than the body size: for example a 2pt rule may be cast on a 6pt body. In that case, the face of the rule is 2 points wide and it may be located in the centre of the body, or to the side. A rule may indeed carry more than one line: a common variety is a total rule (used as a separator above a total figure) which has a thick line and a thin line on the one body.
Many of the busier letterpress printers have their own strip caster, but others buy leads and rules from a typesetter or typefoundry.
---
| | |
| --- | --- |
| | Look up printers' measurements, machinery, materials in our Glossary of Typography. Find the glossary on the MUSEUM'S HOME PAGE (link at top of this page). |
---
---
---
Return to Top