| | | |
| --- | --- | --- |
| Melbourne Museum of Printing | Australia's working and teaching museum of typography and printing located at Footscray, Victoria. Specialising in retention of traditional printing, both the equipment and the knowledge. | |
NOTE: ALL TEXT AND PHOTOGRAPHS ARE COPYRIGHT. All intending users please see our copyright notice page.
---
Enlarged Picture from the Museum's RE-ENACTMENT GALLERY
WHEN YOU REACH THE BOTTOM OF THIS FILE, YOU CAN CLICK A LINK TO THE NEXT ENLARGEMENT, THEN THE NEXT, FINALLY BACK TO THE FIRST. YOU CAN RETURN FROM ANY ENLARGEMENT BACK TO THE MAIN DOCUMENT OR BACK TO THE GALLERY INDEX.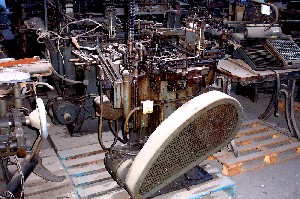 [picture in document]
---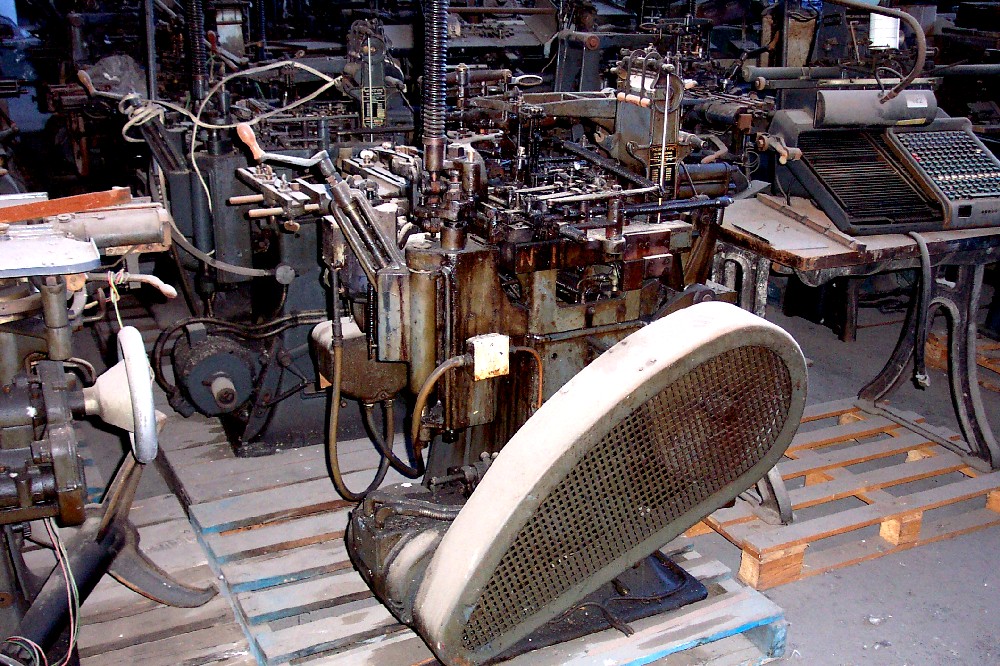 The Monotype Composition system, in use since just before 1900, produces individual types (as used in hand setting) composed and spaced, ready to print. The system consists of a keyboard, which records the operator's keystrokes as holes along a roll of paper tape and a caster which reads that information and makes the letters.
A specified complete set of matrices is mounted on the caster along with the specified type mould. Each recorded keystroke causes the relevant matrix to be positioned onto the mould which is then pumped full of typemetal to cast a type. Spaces, of width determined by the keyboard, are produced similarly. When a line has been completed, the whole row of letters and spaces is caused to slide out of the type channel and onto the galley (tray) where the growing column of composed type is assembled.
In the Museum's proposed re-enactment, a number of Monotype keyboards and casters will be available and a section of the publication will be composed that way.
To the right of this shot, a keyboard is visible. In operation, there are two banks of keys. Here, the left-hand bank has been removed, showing the punch bars underneath.
---
| | |
| --- | --- |
| | Look up printers' measurements, machinery, materials in our Glossary of Typography. Find the glossary on the MUSEUM'S HOME PAGE (link at top of this page). |
---
---
---
Return to Top