| | | |
| --- | --- | --- |
| Melbourne Museum of Printing | Australia's working and teaching museum of typography and printing located at Footscray, Victoria. Specialising in retention of traditional printing, both the equipment and the knowledge. | |
NOTE: ALL TEXT AND PHOTOGRAPHS ARE COPYRIGHT. All intending users please see our copyright notice page.
---
Enlarged Picture from the Museum's RE-ENACTMENT GALLERY
WHEN YOU REACH THE BOTTOM OF THIS FILE, YOU CAN CLICK A LINK TO THE NEXT ENLARGEMENT, THEN THE NEXT, FINALLY BACK TO THE FIRST. YOU CAN RETURN FROM ANY ENLARGEMENT BACK TO THE MAIN DOCUMENT OR BACK TO THE GALLERY INDEX.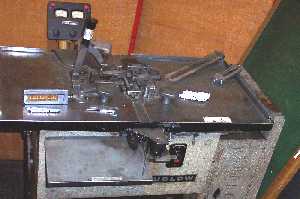 [picture in document]
---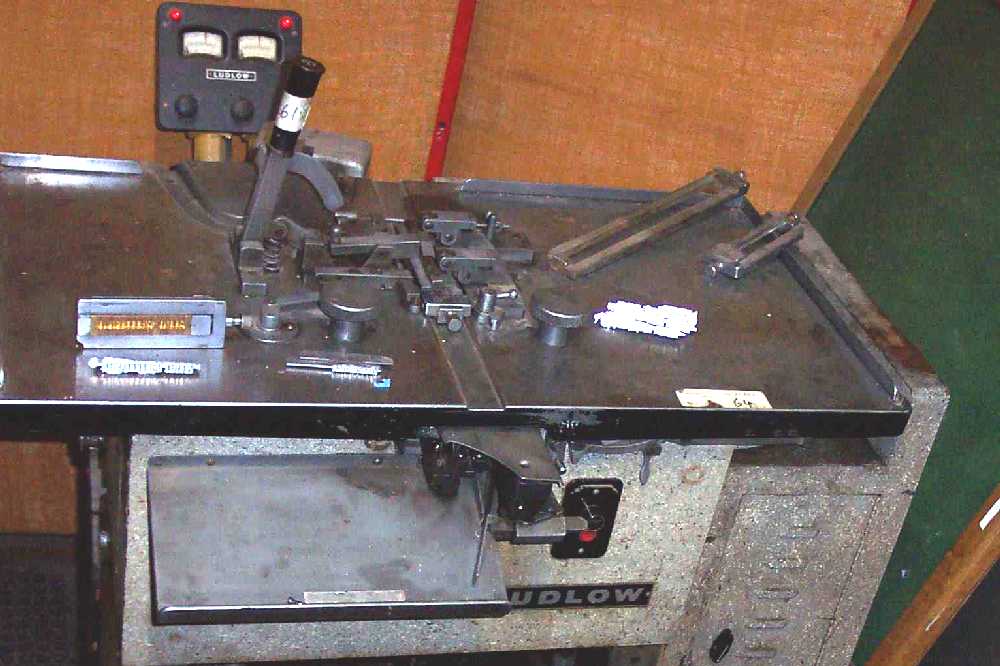 The Ludlow Typograph (generally just called a Ludlow), is a linecaster. It makes slugs not unlike the Linotype, but has no keyboard.
The matrices are assembled by hand into a composing stick, a hand tool which holds one line of mats. When correctly composed and spaced, the line of mats, in the stick, is inserted into the Ludlow for casting.
In this shot, the assembled line of golden coloured mats, in the stick, can be seen on the left front of the Ludlow, and some slugs, cast from that line, are nearby. Ludlow slugs can be intermixed with other forms of typesetting such as Linotype slugs, hand-set type and blocks. Other varieties of composing sticks are on the machine, to the right.
Ludlow typesetting, although involving picking out the mats by hand, is more efficient than the Linotype for some classes of work. On the Linotype it is sometimes quite involved to change to a different typeface or size. On the Ludlow, it is only a matter of opening a different matrix case (drawer). Ludlow founts are available in sizes up to 96 points.
A row of Ludlow matrix cabinets can be seen in the background of the picture of the fallen Linotype (Click here to go back to it). Each cabinet carries up to 20 matrix cases.
---
| | |
| --- | --- |
| | Look up printers' measurements, machinery, materials in our Glossary of Typography. Find the glossary on the MUSEUM'S HOME PAGE (link at top of this page). |
---
---
---
Return to Top