| | | |
| --- | --- | --- |
| Melbourne Museum of Printing | Australia's working and teaching museum of typography and printing located at Footscray, Victoria. Specialising in retention of traditional printing, both the equipment and the knowledge. | |
NOTE: ALL TEXT AND PHOTOGRAPHS ARE COPYRIGHT. All intending users please see our copyright notice page.
---
Enlarged Picture from the Museum's GALLERY OF FOUNTS
WHEN YOU REACH THE BOTTOM OF THIS FILE, YOU CAN CLICK A LINK TO THE NEXT ENLARGEMENT, THEN THE NEXT, FINALLY BACK TO THE FIRST. YOU CAN RETURN FROM ANY ENLARGEMENT BACK TO THE MAIN DOCUMENT OR BACK TO THE GALLERY INDEX.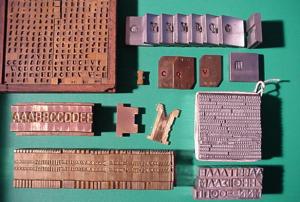 [picture in document]
---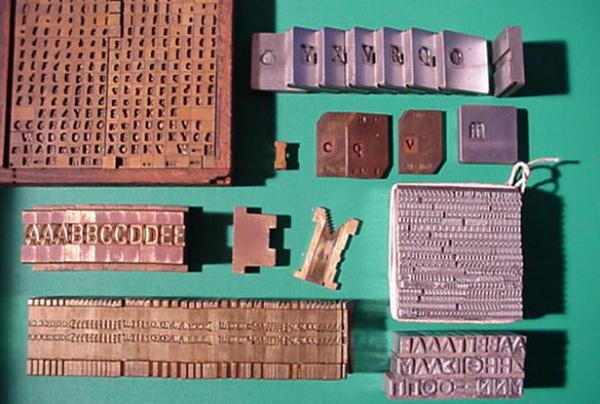 Founts visible in this shot include:
A fount of Monotype Composition Caster mats. These will be loaded into a matrix-case (sometimes called a diecase) and in turn inserted into the composition caster. The fount includes all the letters and symbols needed for (typically) the roman, bold and italic, and perhaps the small capitals, for one face and size of type. For reference, one individual mat is included, on its side, to the lower right of the fount.

A selection from a fount of Monotype Supercaster matrices (C, Y, X, etc, also ffl). These are of brass but electroplated with nickel, a silver-looking metal. With this system, a selected matrix is inserted into the Supercaster, which produces a quantity of types of that letter.

Three brass matrices of the Thompson Typecaster series, which, with the appropriate holder, can be used in the Monotype system.

A line of matrices from the Ludlow system (AAABB etc), followed by one of the same on its side followed by a Linotype mat on its side.

A line of Linotype mats. These are shown "cavity side up": the other side has the character lightly stamped so the operator can check for errors. Note that these mats, as is common, have two cavities on each matrix, the normal cavity (typically for the normal or roman face) and the raised cavity (typically for the bold or italic).

To the right of the Ludlow mats, a fount of handset type, tied up with page cord. This is a new fount of 8-point type from the Museum's own foundry. It includes capitals, lower-case, ligatures, figures, punctuation and symbols, a total of just over 1000 pieces.

Below the 8-pt is a part-fount of 24-pt Greek type, also produced at the Museum.
This Museum's aims include provision of type and other materials to other museums, university departments, artists and those printers who wish to keep using letterpress.
---
| | |
| --- | --- |
| | Look up printers' measurements, machinery, materials in our Glossary of Typography. Find the glossary on the MUSEUM'S HOME PAGE (link at top of this page). |
---
---
Return to Top