| | | |
| --- | --- | --- |
| Melbourne Museum of Printing | Australia's working and teaching museum of typography and printing located at Footscray, Victoria. Specialising in retention of traditional printing, both the equipment and the knowledge. | |
NOTE: ALL TEXT AND PHOTOGRAPHS ARE COPYRIGHT. All intending users please see our copyright notice page.
---
Enlarged Picture from the Museum's GALLERY OF FOUNTS
WHEN YOU REACH THE BOTTOM OF THIS FILE, YOU CAN CLICK A LINK TO THE NEXT ENLARGEMENT, THEN THE NEXT, FINALLY BACK TO THE FIRST. YOU CAN RETURN FROM ANY ENLARGEMENT BACK TO THE MAIN DOCUMENT OR BACK TO THE GALLERY INDEX.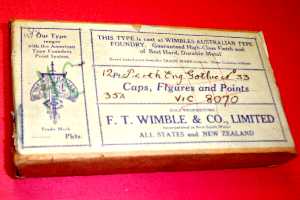 [picture in document]
---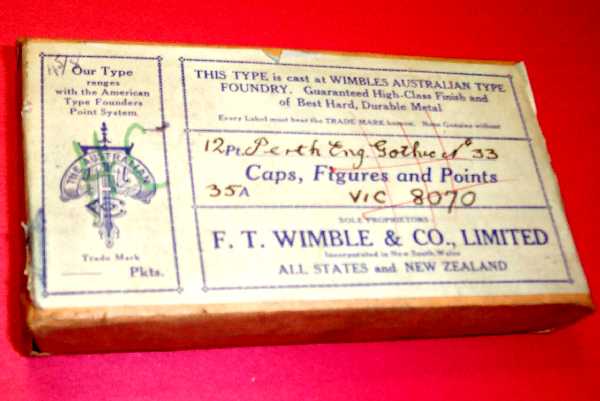 This fount in its packaging was purchased by a printer, probably in the 1950's, but never opened. It is the product of Wimble's Australian Type Foundry. They ceased type production around 1960. The Museum has discovered a surprising proportion of founts in its collection to be the product of this foundry.
There are a number of unopened packages of type in the Museum: a few from Wimbles and others from Stephenson & Blake and the American Type Founders. These were acquired from printers.
In addition the Museum's associated typefoundry has hundreds of new packages from American, British and European foundries as well as its own (still in production) Monotype-based founts.
---
| | |
| --- | --- |
| | Look up printers' measurements, machinery, materials in our Glossary of Typography. Find the glossary on the MUSEUM'S HOME PAGE (link at top of this page). |
---
---
Return to Top