| | | |
| --- | --- | --- |
| Melbourne Museum of Printing | Australia's working and teaching museum of typography and printing located at Footscray, Victoria. Specialising in retention of traditional printing, both the equipment and the knowledge. | |
NOTE: ALL TEXT AND PHOTOGRAPHS ARE COPYRIGHT. All intending users please see our copyright notice page.
---
Enlarged Picture from the Museum's GALLERY OF FOUNTS
WHEN YOU REACH THE BOTTOM OF THIS FILE, YOU CAN CLICK A LINK TO THE NEXT ENLARGEMENT, THEN THE NEXT, FINALLY BACK TO THE FIRST. YOU CAN RETURN FROM ANY ENLARGEMENT BACK TO THE MAIN DOCUMENT OR BACK TO THE GALLERY INDEX.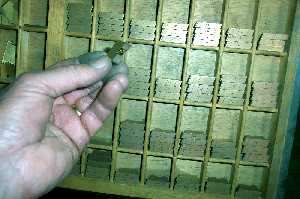 [picture in document]
---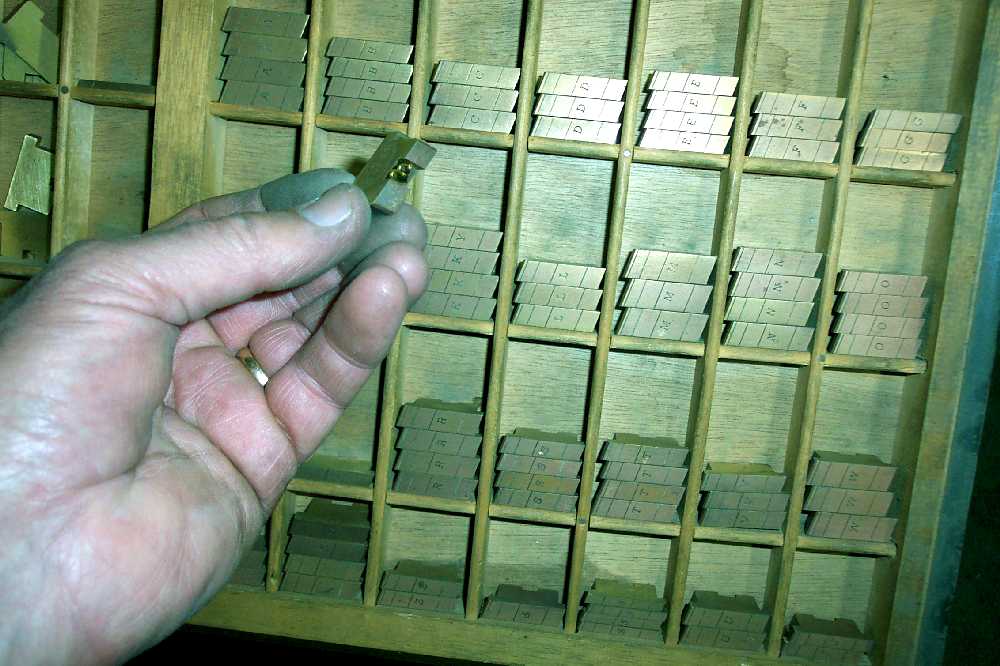 The Ludlow linecasting system has matrices which are gathered by hand from a matrix case. These cases, like type cases. are stored in cabinets. Ludlow cases are designed to lie at an angle, not horizontal, so that the matrices will remain upright for ease of use.
The layout of the typical Ludlow case is like a double-capitals case: the lower case side and the upper-case portions, side-by-side, are identical as regards the position of the alphabetic characters. Punctuation, numerals and special characters vary as between the sides (and for that matter, often between printers).
In this shot, only the capitals portion of the matrix case is visible: the lower-case portion, to the left, is just visible, with some mats lying down (because the case had been lain flat during transport).
The compositor normally sees the "back" of the mats, where a legend is engraved for checking purposes. Also visible on the back of each mat is the series of horizontal lines which are unique to the particular typeface and size, so allowing any mat of the wrong fount to be spotted.
---
| | |
| --- | --- |
| | Look up printers' measurements, machinery, materials in our Glossary of Typography. Find the glossary on the MUSEUM'S HOME PAGE (link at top of this page). |
---
---
Return to Top