| | | |
| --- | --- | --- |
| Melbourne Museum of Printing | Australia's working and teaching museum of typography and printing located at Footscray, Victoria. Specialising in retention of traditional printing, both the equipment and the knowledge. | |
NOTE: ALL TEXT AND PHOTOGRAPHS ARE COPYRIGHT. All intending users please see our copyright notice page.
---
Enlarged Picture from the Museum's GALLERY OF FOUNTS
WHEN YOU REACH THE BOTTOM OF THIS FILE, YOU CAN CLICK A LINK TO THE NEXT ENLARGEMENT, THEN THE NEXT, FINALLY BACK TO THE FIRST. YOU CAN RETURN FROM ANY ENLARGEMENT BACK TO THE MAIN DOCUMENT OR BACK TO THE GALLERY INDEX.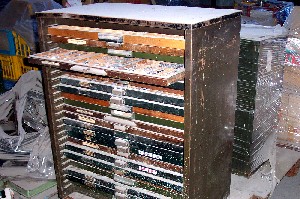 [picture in document]
---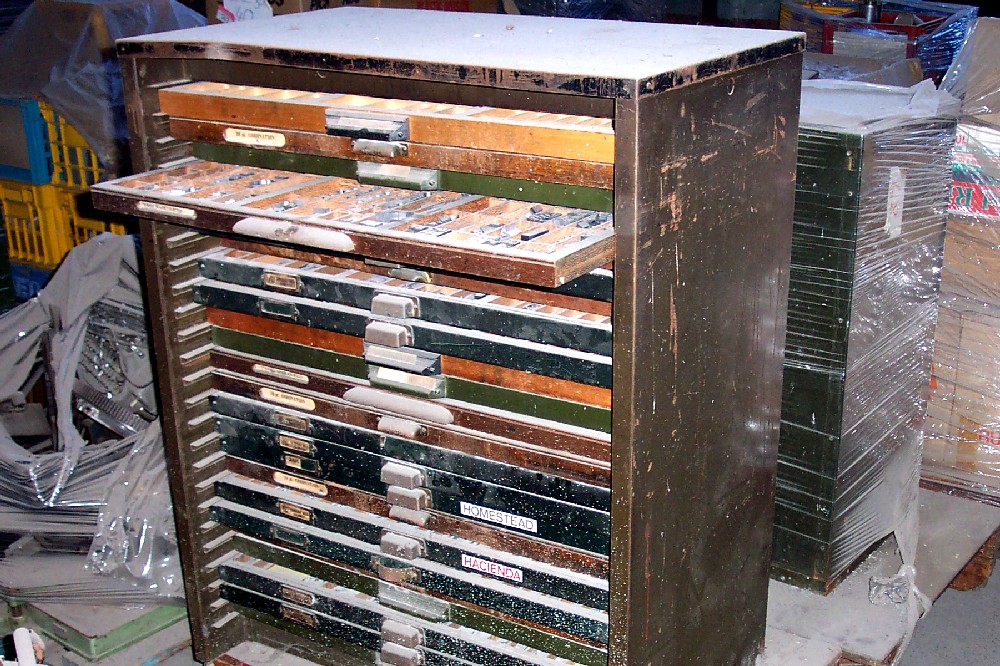 The type cabinet stores up to 24 cases of type. This modern dustproof cabinet carries 24, and the cases are designed to have minimal gap between them to minimise dust intrusion.
This is one of many fully loaded cabinets in the Museum's storage facilities. It certainly looks very dusty but our volunteers will clean it up okay, and the contents are mostly clean. Note that the printer who owned this one seems to have had a real mixture of typecases, made by different manufacturers over the years. But inside the differences are minor.
These cabinets carry, in some instances, the complete range of typefaces used by a former printing business. [Typog exercise: design and proof a range of documents using only the resources of a typical letterpress printer of times past.]
Sadly, these irreplaceable founts will be lost if the Museum fails to find a sponsor for the cost of storage.
---
| | |
| --- | --- |
| | Look up printers' measurements, machinery, materials in our Glossary of Typography. Find the glossary on the MUSEUM'S HOME PAGE (link at top of this page). |
---
---
Return to Top