| | | |
| --- | --- | --- |
| Melbourne Museum of Printing | Australia's working and teaching museum of typography and printing located at Footscray, Victoria. Specialising in retention of traditional printing, both the equipment and the knowledge. | |
NOTE: ALL TEXT AND PHOTOGRAPHS ARE COPYRIGHT. All intending users please see our copyright notice page.
---
Enlarged Picture from the Museum's ENGRAVINGS GALLERY
WHEN YOU REACH THE BOTTOM OF THIS FILE, YOU CAN CLICK A LINK TO THE NEXT ENLARGEMENT, THEN THE NEXT, FINALLY BACK TO THE FIRST. YOU CAN RETURN FROM ANY ENLARGEMENT BACK TO THE MAIN DOCUMENT OR BACK TO THE GALLERY INDEX.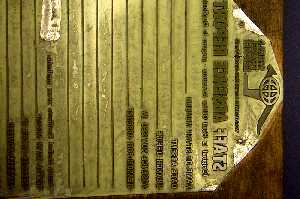 [picture in document]
---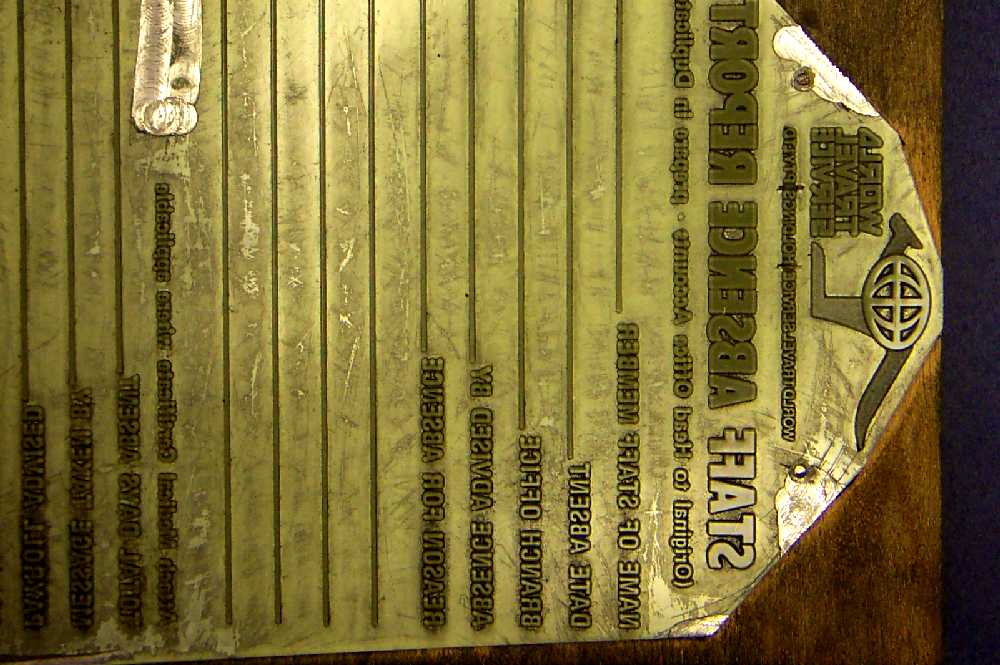 This business form, an absentee report, was (presumably) photo-typeset then photographed to produce a process negative. This is about the same as for production of a photoengraved plate.
The negative is then used to image a sheet of photo-sensitive polymer. In this case the polymer is coated onto a metal backplate, possibly of steel. After exposure, the polymer is washed out with the relevant fluid. For many types of polymer plain water is all that is needed. The plate is then mounted on a wooden block, type high.
As printers began to explore the use of phototypesetters and computer typesetters while still using letterpress printing, a cheap method of producing the relief printing surface became available in the form of photopolymer plates. These were much cheaper than regular photoengraving and could be produced in-house whereas the acid-based engraving process could not, except for the largest users like newspapers.
The Museum has thousands of photopolymer plates covering a very wide range of work. Many of them have deteriorated, some to the extent of the polymer peeling away from the backing. So not all can be printed now, but mostly they reveal the nature and details of the job.
---
| | |
| --- | --- |
| | Look up printers' measurements, machinery, materials in our Glossary of Typography. Find the glossary on the MUSEUM'S HOME PAGE (link at top of this page). |
---
---
---
Return to Top