| | | |
| --- | --- | --- |
| Melbourne Museum of Printing | Australia's working and teaching museum of typography and printing located at Footscray, Victoria. Specialising in retention of traditional printing, both the equipment and the knowledge. | |
NOTE: ALL TEXT AND PHOTOGRAPHS ARE COPYRIGHT. All intending users please see our copyright notice page.
---
Enlarged Picture from the Museum's ENGRAVINGS GALLERY
WHEN YOU REACH THE BOTTOM OF THIS FILE, YOU CAN CLICK A LINK BACK TO THE FIRST ENLARGEMENT. YOU CAN RETURN FROM ANY ENLARGEMENT BACK TO THE MAIN DOCUMENT OR BACK TO THE GALLERY INDEX.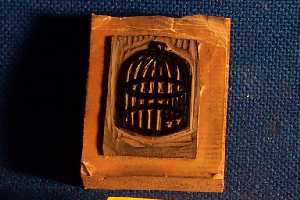 [picture in document]
---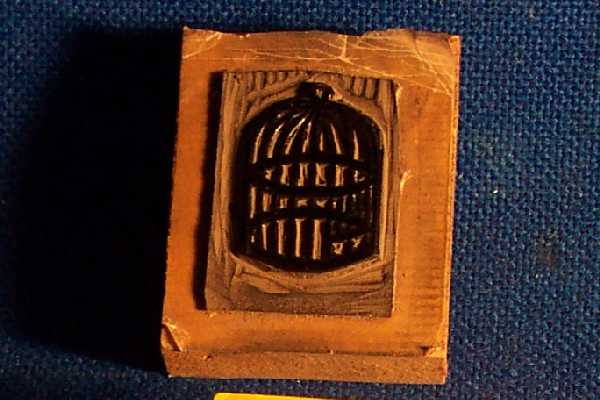 Linoleum, a once-common flooring material made from the stem and the oil of the flax plant, has been an old favorite for do-it-yourself printing of illustrations.
This linocut was designed and cut by a user of the Museum's Access Studio. The lino is fastened to the block of chipboard with double-sided tape. The tape segment was larger than needed and the edges may be seen curling.
Mounted type-high, as this one is, the linocut can be printed in a press, along with text set as type. At home or school, it is common to print from a linocut without a press, in which case the piece of lino need not be mounted.
The Museum encourages artists and experimenters to make use of the Access Studio, where you can learn how to typeset by hand and print on a hand-operated press.
---
| | |
| --- | --- |
| | Look up printers' measurements, machinery, materials in our Glossary of Typography. Find the glossary on the MUSEUM'S HOME PAGE (link at top of this page). |
---
---
---
Return to Top