| | | |
| --- | --- | --- |
| Melbourne Museum of Printing | Australia's working and teaching museum of typography and printing located at Footscray, Victoria. Specialising in retention of traditional printing, both the equipment and the knowledge. | |
NOTE: ALL TEXT AND PHOTOGRAPHS ARE COPYRIGHT. All intending users please see our copyright notice page.
---
Enlarged Picture from the Museum's ENGRAVINGS GALLERY
WHEN YOU REACH THE BOTTOM OF THIS FILE, YOU CAN CLICK A LINK TO THE NEXT ENLARGEMENT, THEN THE NEXT, FINALLY BACK TO THE FIRST. YOU CAN RETURN FROM ANY ENLARGEMENT BACK TO THE MAIN DOCUMENT OR BACK TO THE GALLERY INDEX.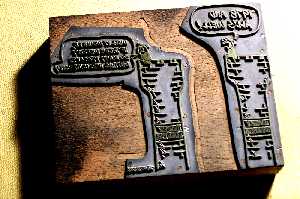 [picture in document]
---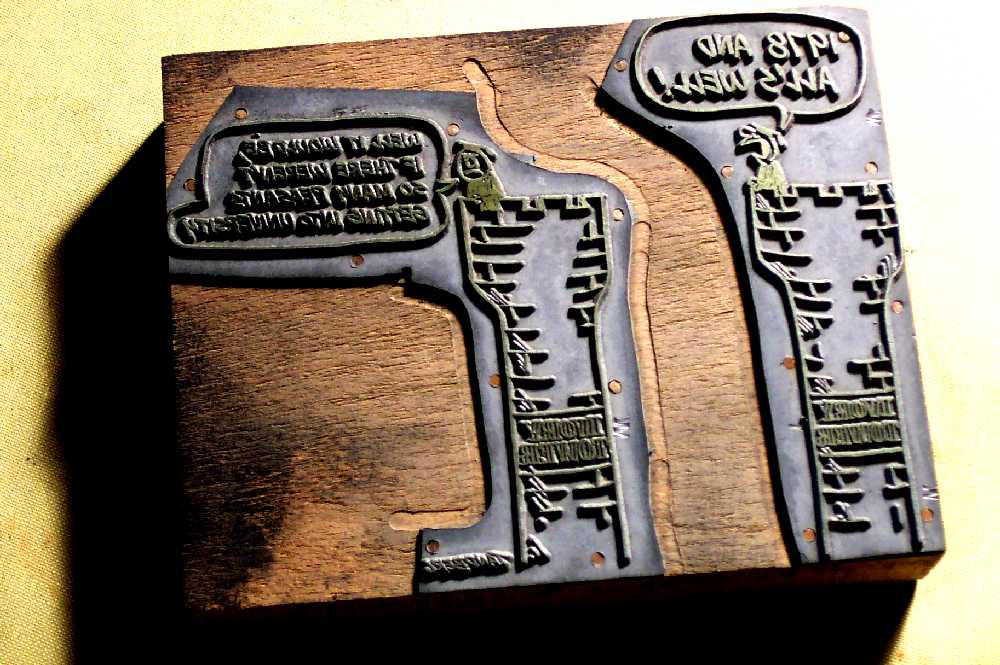 This line engraving is a cartoon which may have appeared in a magazine printed in Melbourne. The text mentions the year: 1978.
As it stands, there are two plates, pinned (nailed) to the wooden block. These would have been made as a single plate, pinned, and then separated by the routing machine. You can see the lines in the block where the router has passed.
This engraving, along with thousands of others from magazines, books, advertising and small newspapers, forms part of the Museum's archives.
The sheer volume of the archives is what is putting them at risk because of the cost of storage. Possibly no other museum in the world has a comparable collection of artefacts and documents relating to printing businesses and their myriad customers. Many of the businesses referenced by the collection are no longer operating.
---
| | |
| --- | --- |
| | Look up printers' measurements, machinery, materials in our Glossary of Typography. Find the glossary on the MUSEUM'S HOME PAGE (link at top of this page). |
---
---
Return to Top