| | | |
| --- | --- | --- |
| Melbourne Museum of Printing | Australia's working and teaching museum of typography and printing located at Footscray, Victoria. Specialising in retention of traditional printing, both the equipment and the knowledge. | |
NOTE: ALL TEXT AND PHOTOGRAPHS ARE COPYRIGHT. All intending users please see our copyright notice page.
---
Enlarged Picture from the Museum's ENGRAVINGS GALLERY
WHEN YOU REACH THE BOTTOM OF THIS FILE, YOU CAN CLICK A LINK TO THE NEXT ENLARGEMENT, THEN THE NEXT, FINALLY BACK TO THE FIRST. YOU CAN RETURN FROM ANY ENLARGEMENT BACK TO THE MAIN DOCUMENT OR BACK TO THE GALLERY INDEX.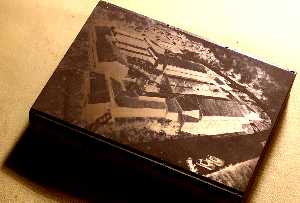 [picture in document]
---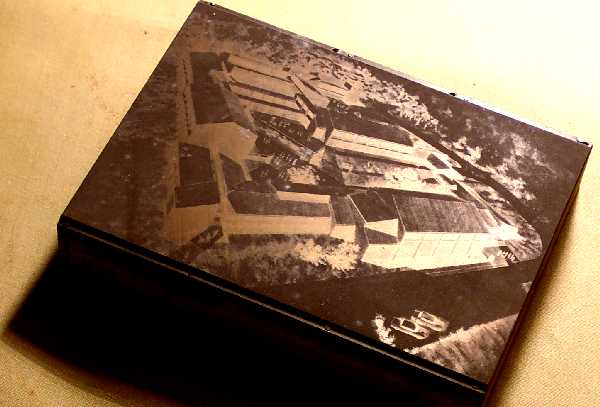 This engraving, a halftone photoengraving, appears to be an architect's sketch of a new building complex.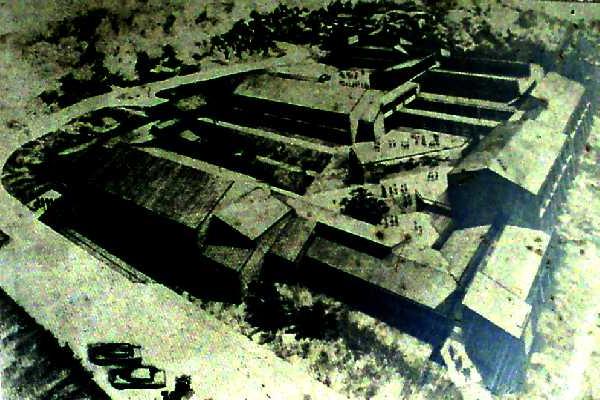 This second image is taken from the same shot. It has been negatived and flipped to give an idea of the result of printing this engraving.
Photoengravings are metal plates that have been engraved by a chemical process, after first having the image areas defined by a photographic negative. The negative is produced, usually in a process camera. This is a special large camera that can handle film (and copy) the size of large printing jobs. The negative is made on process film which has very strong contrast - no greys - everything is fully black unless it is completely clear.
The image areas are clear, and thus pass light onto what will become the image areas of the coated metal plate. The resulting photo-chemical change on the coating of the plate leaves a hardened, acid-resistant surface on the image areas, whereas the non-image areas are reduced to bare metal.
The engraving occurs when a strong acid is sprayed onto the metal, reducing the thickness in non-image areas while the image areas are protected by their resist or coating. The resist is typically of coloured material, in this case brownish.
A half-tone engraving is one where a continuous-tone original, such as a normal photograph, has been converted to a series of dots of varying size. This normally happens in the process camera, using a screen, a sheet of special material, between the lens and the film. These dots and their background are of the needed high contrast: either black or white. Printing processes cannot produce anything in between, although a field of fine dots produces the effect of greys.
In this particular image, the artist's drawing is of blacks, whites and greys. Although not a continuous-tone image, it is still converted to screened dots in the process camera.
This engraving is one of countless thousands in the Museum's collection. Most of them could still be placed into a press and printed.
The collection is available for researchers who wish to investigate some aspect of early printing, publishing or design and will publish their work.
Unfortunately, as the Museum has not attracted sponsorship to meet the cost of storage of these archival materials, the collection is facing an uncertain future.
---
| | |
| --- | --- |
| | Look up printers' measurements, machinery, materials in our Glossary of Typography. Find the glossary on the MUSEUM'S HOME PAGE (link at top of this page). |
---
---
Return to Top