| | | |
| --- | --- | --- |
| Melbourne Museum of Printing | Australia's working and teaching museum of typography and printing located at Footscray, Victoria. Specialising in retention of traditional printing, both the equipment and the knowledge. | |
NOTE: ALL TEXT AND PHOTOGRAPHS ARE COPYRIGHT. All intending users please see our copyright notice page.
---
Enlarged Picture from the Museum's ENGRAVINGS GALLERY
WHEN YOU REACH THE BOTTOM OF THIS FILE, YOU CAN CLICK A LINK TO THE NEXT ENLARGEMENT, THEN THE NEXT, FINALLY BACK TO THE FIRST. YOU CAN RETURN FROM ANY ENLARGEMENT BACK TO THE MAIN DOCUMENT OR BACK TO THE GALLERY INDEX.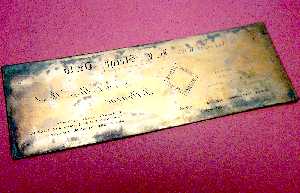 [picture in document]
---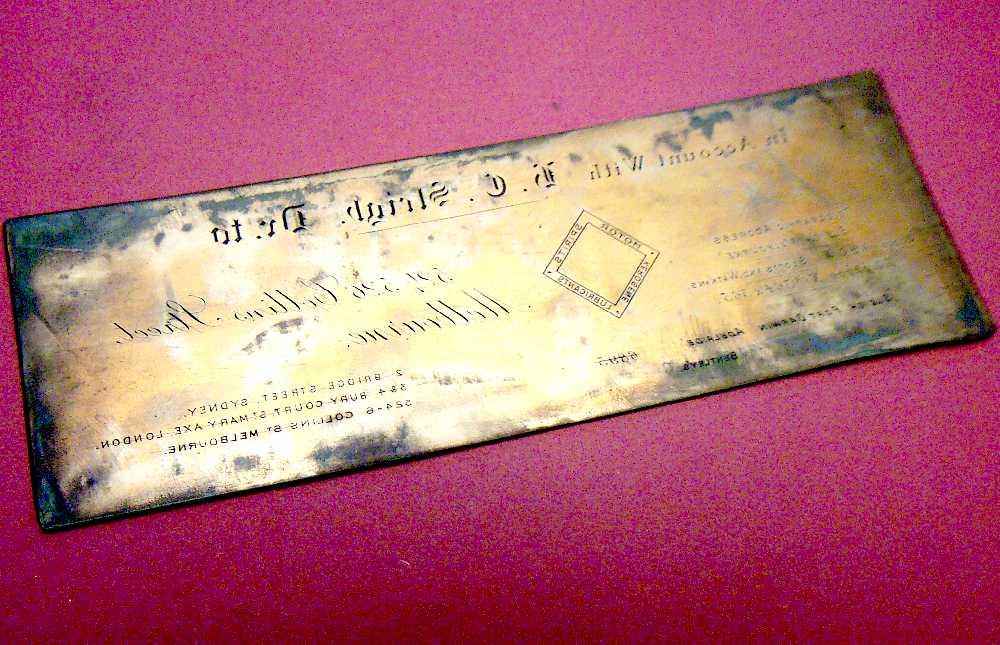 This engraving, carved by hand into a sheet of copper, is used for printing by the intaglio process. This is the opposite of the more-common letterpress where the areas to print are raised and receive a covering of ink.
In the intaglio process, the areas to print are cut away, that is made lower than the flat surface of the plate. The plate is covered with ink and then wiped clean: the lowered, image areas are not cleaned by the wiping. The sheet of paper is then pressed into the plate and picks up the ink from the lowered image areas.
In the field of general printing, this process is generally called engraved printing and requires special skills and machinery. Although less common now, there are still specialised printers who practise engraving for very fine stationery.
The art of intaglio printing is also practiced by printmakers, who may image the plate in a number of ways but generically called etching.
---
| | |
| --- | --- |
| | Look up printers' measurements, machinery, materials in our Glossary of Typography. Find the glossary on the MUSEUM'S HOME PAGE (link at top of this page). |
---
---
Return to Top