| | | |
| --- | --- | --- |
| Melbourne Museum of Printing | Australia's working and teaching museum of typography and printing located at Footscray, Victoria. Specialising in retention of traditional printing, both the equipment and the knowledge. | |
NOTE: ALL TEXT AND PHOTOGRAPHS ARE COPYRIGHT. All intending users please see our copyright notice page.
---
Enlarged Picture from the Museum's ENGRAVINGS GALLERY
WHEN YOU REACH THE BOTTOM OF THIS FILE, YOU CAN CLICK A LINK TO THE NEXT ENLARGEMENT, THEN THE NEXT, FINALLY BACK TO THE FIRST. YOU CAN RETURN FROM ANY ENLARGEMENT BACK TO THE MAIN DOCUMENT OR BACK TO THE GALLERY INDEX.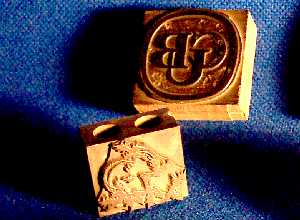 [picture in document]
---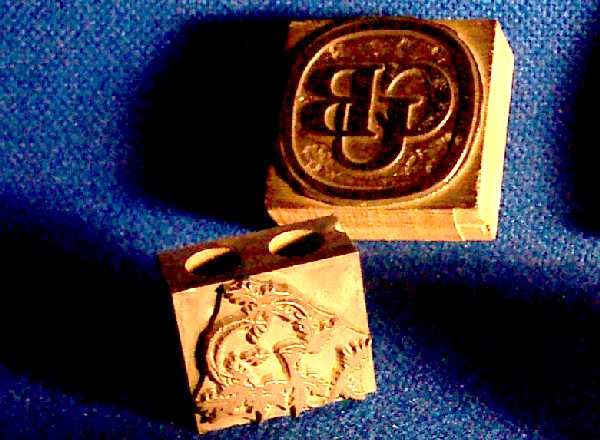 These two are produced by quite different technologies.
The CUB block is a photoengraving, mounted type-high on a block of wood.
The block of a Christmas decoration is typecast. That is, it was produced the same way as a piece of type. A matrix, mounted in a typecasting mould, carries the design instead of the shape of a letter. Production is then inexpensive. Many printers used to buy typecast ornaments of stock designs.
In the Museum's collection there are thousands of blocks, produced by the various methods.
Unfortunately, due to the Museum's lack of sponsorship, the majority of these items, in our store, are in jeopardy.
---
| | |
| --- | --- |
| | Look up printers' measurements, machinery, materials in our Glossary of Typography. Find the glossary on the MUSEUM'S HOME PAGE (link at top of this page). |
---
---
Return to Top