| | | |
| --- | --- | --- |
| Melbourne Museum of Printing | Australia's working and teaching museum of typography and printing located at Footscray, Victoria. Specialising in retention of traditional printing, both the equipment and the knowledge. | |
NOTE: ALL TEXT AND PHOTOGRAPHS ARE COPYRIGHT. All intending users please see our copyright notice page.
---
Enlarged Picture from the Museum's MAY 2003 PICTORIAL
WHEN YOU REACH THE BOTTOM OF THIS FILE, YOU CAN CLICK A LINK TO THE NEXT ENLARGEMENT, THEN THE NEXT, FINALLY BACK TO THE FIRST. YOU CAN RETURN FROM ANY ENLARGEMENT BACK TO THE MAIN DOCUMENT OR BACK TO THE DOCUMENT INDEX.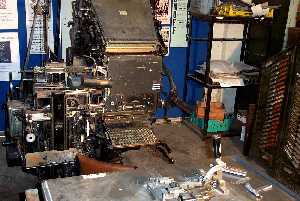 [picture in document]
---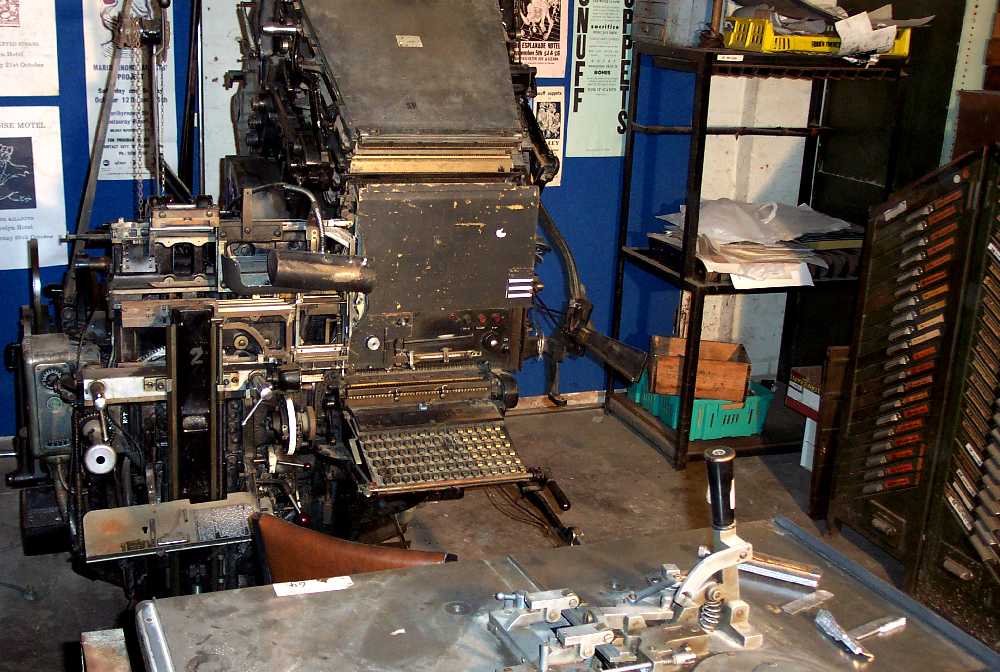 Our new hot metal typesetting area includes a Linotype (Model 78), a Ludlow Typograph, a compositor's saw [out of shot] and several cabinets of matrices for the Ludlow. There is a magazine rack for storage of magazines for the Linotype but at present the only mags we have here are on the machine.
In our store (unfortunately in jeopardy) we have hundreds of magazines, with mats for the Linotype system. The task of identifying the most appropriate of these magazines to move into the Museum proper is becoming urgent because of the risk that the store may be emptied by the landlord if we fail to gain sponsorship.
The Linotype is the machine at the back of the area, with a keyboard. The Ludlow is in the foreground: we are looking at it from the back. Future Pictorials will have better shots of these wonderful machines.
The green cabinets at the right, with sloping cases (drawers) are Ludlow matrix cabinets. Each holds 20 Ludlow matrix cases. Each case holds a fount of Ludlow matrices.
In the corner, to the left of the Ludlow cabinets, is a steel-framed rack, the Linotype magazine rack. It only has junk in it right now but when we get them, it will hold 16 magazines in the main compartment and junk on the top and below. Well, maybe spare parts?
A Linotype magazine carries a fount of Linotype matrices. A fount includes several of each character. There are 90 channels in a normal magazine, one for each character of the fount. Each channel can carry up to 20 mats, although the less-used characters have less than that. Some may only have one!
---
| | |
| --- | --- |
| | Look up printers' measurements, machinery, materials in our Glossary of Typography. Find the glossary on the MUSEUM'S HOME PAGE (link at top of this page). |
---
---
---
Return to Top