| | | |
| --- | --- | --- |
| Melbourne Museum of Printing | Australia's working and teaching museum of typography and printing located at Footscray, Victoria. Specialising in retention of traditional printing, both the equipment and the knowledge. | |
NOTE: ALL TEXT AND PHOTOGRAPHS ARE COPYRIGHT. All intending users please see our copyright notice page.
---
Enlarged Picture from the Museum's MAY 2003 PICTORIAL
WHEN YOU REACH THE BOTTOM OF THIS FILE, YOU CAN CLICK A LINK TO THE NEXT ENLARGEMENT, THEN THE NEXT, FINALLY BACK TO THE FIRST. YOU CAN RETURN FROM ANY ENLARGEMENT BACK TO THE MAIN DOCUMENT OR BACK TO THE DOCUMENT INDEX.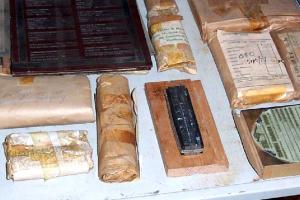 [picture in document]
---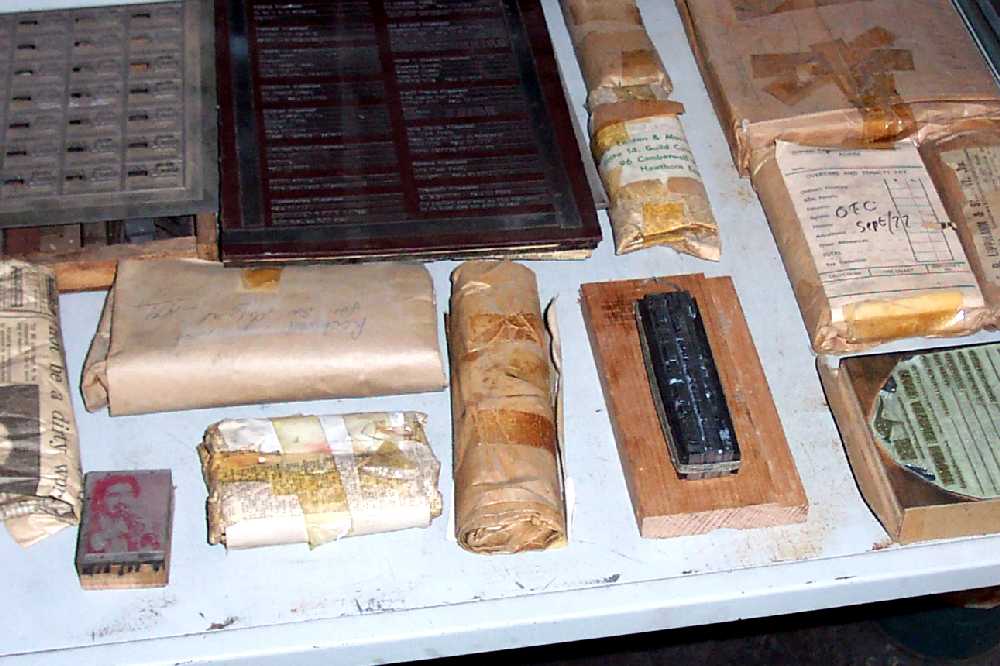 National Press were located in Lonsdale Street Melbourne and undertook fine journal printing as well as jobbing. Around 1980 they moved to Abbotsford and on moving, they held a clearance sale of much of their letterpress operation. A large quantity of typesettings and engravings found their way to the present collection.
A few dozen of these artefacts have arrived at the new museum and some of these are on display.
These parcels contain typesettings for small business forms. As is normal, each job it tied with page cord (string) and then wrapped. Some have a proof of the job attached to the parcel.
One job (on a wooden stand) has been unwrapped. We'll have better pictures of these some time. Meantime, they are available for inspection on request.
One job (RH front) is in the form of a steel-backed photopolymer plate, wood mounted. It would have been made from a photo-negative, shot from computer-generated artwork. This was a popular process in the transition from letterpress to litho. It enabled computer-generated jobs to be printed on then-current presses.
At the LH rear are two larger plates. They are from a different collection, a rubber stamp maker. On the left is a photo-engraving, with twenty-odd repeats of the same small wording. Next to it is a rubber stamp matrix moulded from Linotype typesettings: each setting is a name and address (all pharmacies) and there are about 20.
In our store (unfortunately in jeopardy) the rest are hidden away in boxes on pallets and cannot be immediately located. It is hoped that some research students will eventually unearth them and make an inventory. It is believed that a number of the engravings were used in what are now classical journals.
---
| | |
| --- | --- |
| | Look up printers' measurements, machinery, materials in our Glossary of Typography. Find the glossary on the MUSEUM'S HOME PAGE (link at top of this page). |
---
---
---
Return to Top