| | | |
| --- | --- | --- |
| Melbourne Museum of Printing | Australia's working and teaching museum of typography and printing located at Footscray, Victoria. Specialising in retention of traditional printing, both the equipment and the knowledge. | |
NOTE: ALL TEXT AND PHOTOGRAPHS ARE COPYRIGHT. All intending users please see our copyright notice page.
---
Enlarged Picture from the Museum's MAY 2003 PICTORIAL
WHEN YOU REACH THE BOTTOM OF THIS FILE, YOU CAN CLICK A LINK TO THE NEXT ENLARGEMENT, THEN THE NEXT, FINALLY BACK TO THE FIRST. YOU CAN RETURN FROM ANY ENLARGEMENT BACK TO THE MAIN DOCUMENT OR BACK TO THE DOCUMENT INDEX.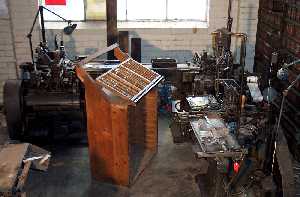 [picture in document]
---
Our type foundry last operated in 1999 just as we were packing up and leaving our former home. It is now being installed in the new Museum building.
In this picture, a typecase is placed on a cabinet near the machines, as if ready to be topped up, but it is a pose. The machines will not be ready for a while, as they need many connections of cable and piping.
The machine on the right is a Monotype Composition Caster which decodes the paper ribbon (visible to the right of the machine) to compose a job keyboarded by a compositor. The machine makes the required letters and spaces and outputs them in lines of type, correctly justified and ready to print. It can also operate as a type caster in which case it outputs a chosen letter for as many as are needed. The composition caster generally casts type in sizes from 5 point to 14 point.
The other machines are Monotype Super Casters which cannot compose type but, as above, cast the one letter for as many as are needed before moving on to the next letter. They generally cast larger sizes of type (14 pt to 72 pt) and can also cast strips of material as leads (spacing strips), rules (to print straight lines) or continuous borders to print decorative lines.
---
| | |
| --- | --- |
| | Look up printers' measurements, machinery, materials in our Glossary of Typography. Find the glossary on the MUSEUM'S HOME PAGE (link at top of this page). |
---
---
---
Return to Top