| | | |
| --- | --- | --- |
| Melbourne Museum of Printing | Australia's working and teaching museum of typography and printing located at Footscray, Victoria. Specialising in retention of traditional printing, both the equipment and the knowledge. | |
NOTE: ALL TEXT AND PHOTOGRAPHS ARE COPYRIGHT. All intending users please see our copyright notice page.
---
Enlarged Picture from the Museum's MAY 2003 PICTORIAL
WHEN YOU REACH THE BOTTOM OF THIS FILE, YOU CAN CLICK A LINK TO THE NEXT ENLARGEMENT, THEN THE NEXT, FINALLY BACK TO THE FIRST. YOU CAN RETURN FROM ANY ENLARGEMENT BACK TO THE MAIN DOCUMENT OR BACK TO THE DOCUMENT INDEX.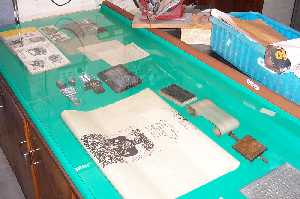 [picture in document]
---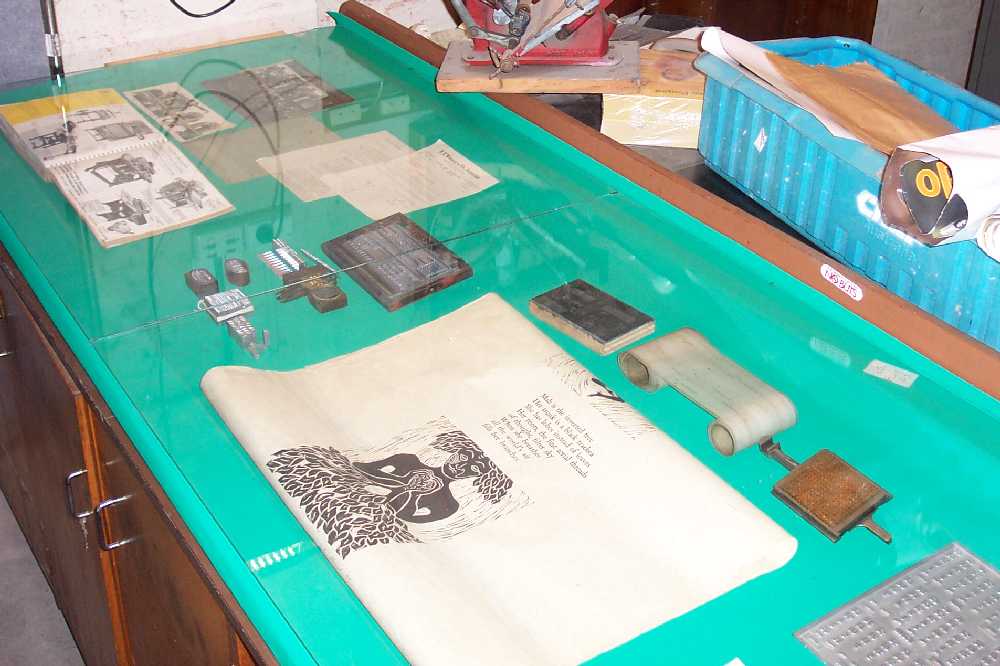 In the Museum proper, we are currently setting up displays of machinery, artefacts and documents.
This workbench with storage space below came from a printery which closed in the 1990's. It may have been used for collating. It was used in our former location in the same way: a layer of book-cloth as a background for artefacts, and a glass top.
Visible in this shot are printers' supply catalogs, business documents, small typesettings, a typeset job locked up in a chase, a photoengraving, a large sheet from a printmaker who typeset and printed the text portion at the Museum's Access Studio, a roll of Monotype Ribbon with a document encoded in its punched holes, a Monotype Matrix Case carrying 225 matrices for casting type and the corner of a stereotype plate (to print a calendar for 1977).
It is the Museum's intention to change the items on display from time to time. Our store has tens of thousands of items like these, and they are also available for research into the history of design and many other areas of interest.
---
| | |
| --- | --- |
| | Look up printers' measurements, machinery, materials in our Glossary of Typography. Find the glossary on the MUSEUM'S HOME PAGE (link at top of this page). |
---
---
---
Return to Top