! www.vicnet.net.au/~mmop/download/rulfrm2b.htm =============================>
| | | |
| --- | --- | --- |
| Melbourne Museum of Printing | Australia's working and teaching museum of typography and printing located at Footscray, Victoria. Specialising in retention of traditional printing, both the equipment and the knowledge. | |
NOTE: ALL TEXT AND PHOTOGRAPHS ARE COPYRIGHT. All intending users please see our copyright notice page.
---
Enlarged Picture from the Museum's PICTORIAL 2001
WHEN YOU REACH THE BOTTOM OF THIS FILE, YOU CAN CLICK A LINK TO THE NEXT ENLARGEMENT, THEN THE NEXT, FINALLY BACK TO THE FIRST. YOU CAN RETURN FROM ANY ENLARGEMENT BACK TO THE MAIN DOCUMENT OR BACK TO THE DOCUMENT INDEX.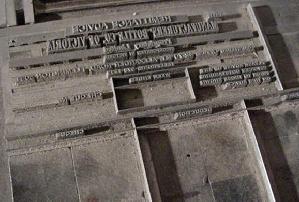 [picture in document]
---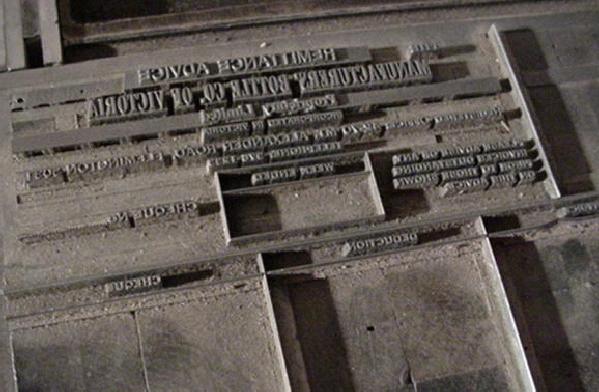 This example of letterpress typesetting, one of thousands in the Museum's collection, is a rule forme.
Rule formes are formes (that is, jobs made up in type) which include a number of rules. A rule is a strip of metal, the same height as types, which prints a straight line. These a commonly used in the printing of business documents. This document is a Remittance Advice. It was printed for a company which provided new and re-used bottles for the beverage trade, and from the wording it seems that this advice went to those who collected bottles for them.
It is sometimes confusing that the word forme is used to describe a typesetting and the word form is used to describe the common kind of business document. A rule forme is a printing forme which will print a business form. In US English, a printing forme is called a printing form. So we would have to say that a rule form is used to print a business form. I would say that the extra e on the end of forme is there for a reason.
The forme is made up of individual metal letters, letter-spaces, lines set on the linotype, strips of brass rule, and larger spacing pieces called quotations which fill out the areas between the down rules.
[Not visible in this shot:] The rule forme is locked into a steel frame called a chase. Unused space is filled out by large metal spacing pieces known as furniture (just visible at top). In this case the furniture is cast iron. Another enlargement shows these cast iron furniture pieces in more detail.
MUSEUM'S MAIN STORE IN JEOPARDY . . .

Our store carries thousands of typeset jobs and other artefacts of value for research. This particular job is safe, it's in the Museum proper, but the rest of them will be disposed of if we cannot gain support from sponsors or donors.

In the longer term the Museum's programs will produce enough revenue to pay rental on the store but until that time, the axe could fall on part or all of the stored items.
---
| | |
| --- | --- |
| | Look up printers' measurements, machinery, materials in our Glossary of Typography. Find the glossary on the MUSEUM'S HOME PAGE (link at top of this page). |
---
---
---
Return to Top