! www.vicnet.net.au/~mmop/download/ad2hse2m.htm =============================>
| | | |
| --- | --- | --- |
| Melbourne Museum of Printing | Australia's working and teaching museum of typography and printing located at Footscray, Victoria. Specialising in retention of traditional printing, both the equipment and the knowledge. | |
NOTE: ALL TEXT AND PHOTOGRAPHS ARE COPYRIGHT. All intending users please see our copyright notice page.
---
Enlarged Picture from the Museum's PICTORIAL 2001
WHEN YOU REACH THE BOTTOM OF THIS FILE, YOU CAN CLICK A LINK TO THE NEXT ENLARGEMENT, THEN THE NEXT, FINALLY BACK TO THE FIRST. YOU CAN RETURN FROM ANY ENLARGEMENT BACK TO THE MAIN DOCUMENT OR BACK TO THE DOCUMENT INDEX.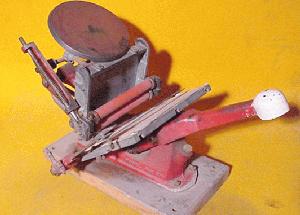 [picture in document]
---
The Adana range of small presses, made in England, is well represented in the Museum.
The "High Speed" hand platens, thought to have been marketed in the 1930's, had three sizes HS No.1, No.2 and No.3.
This example of the No.2 machine was purchased second-hand by Michael Isaachsen in 1952 and used at home during his school years.
The original rollers were of a gelatinous composition and have now hardened and crumbled. New polyurethane rollers have been fitted, otherwise the press is in original condition.
---
| | |
| --- | --- |
| | Look up printers' measurements, machinery, materials in our Glossary of Typography. Find the glossary on the MUSEUM'S HOME PAGE (link at top of this page). |
---
---
---
Return to Top