! www.vicnet.net.au/~mmop/download/fdroom1b.htm =============================>
| | | |
| --- | --- | --- |
| Melbourne Museum of Printing | Australia's working and teaching museum of typography and printing located at Footscray, Victoria. Specialising in retention of traditional printing, both the equipment and the knowledge. | |
NOTE: ALL TEXT AND PHOTOGRAPHS ARE COPYRIGHT. All intending users please see our copyright notice page.
---
Enlarged Picture from the Museum's PICTORIAL 2001
WHEN YOU REACH THE BOTTOM OF THIS FILE, YOU CAN CLICK A LINK TO THE NEXT ENLARGEMENT, THEN THE NEXT, FINALLY BACK TO THE FIRST. YOU CAN RETURN FROM ANY ENLARGEMENT BACK TO THE MAIN DOCUMENT OR BACK TO THE DOCUMENT INDEX.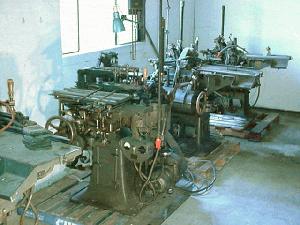 [picture in document]
---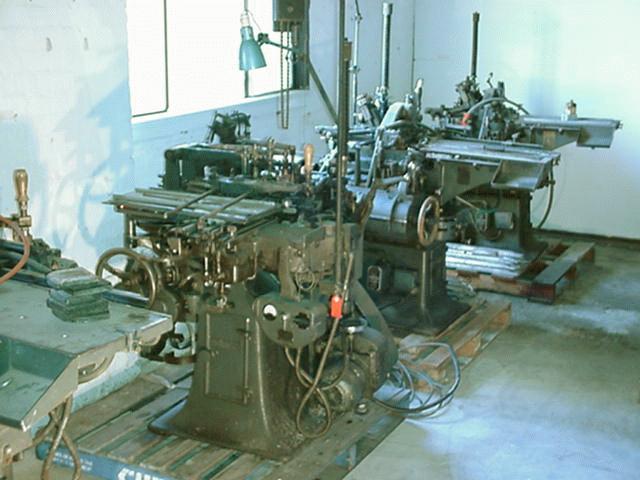 Monotype Typecasting machines. Awaiting installation at the Museumís temporary premises, early 2001.
We got them almost ready for action. It's quite a job, as they need singlephase power (metal pot heater), three phase power (drive motor), compressed air (to read the tape and control the motion), low pressure water (for cooling the mould) and drainage for the warm water. That's after they were lifted off their transport pallets.
But they never turned a wheel in this place, as plans went astray. So they stayed there. They were last used in March 1999 just before being moved from the original museum site.
---
| | |
| --- | --- |
| | Look up printers' measurements, machinery, materials in our Glossary of Typography. Find the glossary on the MUSEUM'S HOME PAGE (link at top of this page). |
---
---
---
Return to Top