! www.vicnet.net.au/~mmop/download/furnit2b.htm =============================>
| | | |
| --- | --- | --- |
| Melbourne Museum of Printing | Australia's working and teaching museum of typography and printing located at Footscray, Victoria. Specialising in retention of traditional printing, both the equipment and the knowledge. | |
NOTE: ALL TEXT AND PHOTOGRAPHS ARE COPYRIGHT. All intending users please see our copyright notice page.
---
Enlarged Picture from the Museum's PICTORIAL 2001
WHEN YOU REACH THE BOTTOM OF THIS FILE, YOU CAN CLICK A LINK TO THE NEXT ENLARGEMENT, THEN THE NEXT, FINALLY BACK TO THE FIRST. YOU CAN RETURN FROM ANY ENLARGEMENT BACK TO THE MAIN DOCUMENT OR BACK TO THE DOCUMENT INDEX.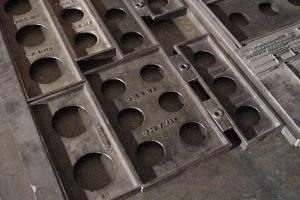 [picture in document]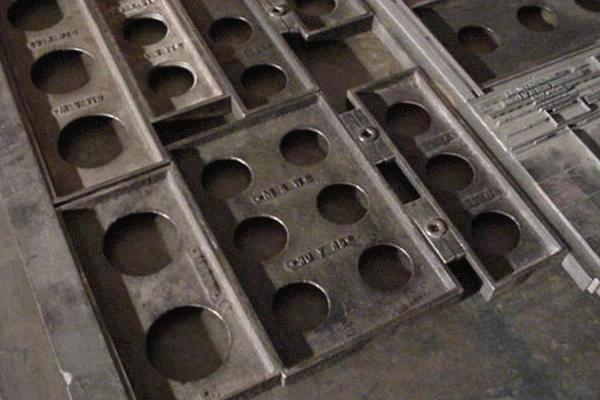 Letterpress composition requires several kinds of spacing material.
The kind used for filling out large "white" areas within the typesetting or between the typesetting and the edge of the chase are rectangles ranging from [all measures in pica units] 2x10 to 12 x 70 or even larger. These are generally called furniture.
Furniture is made from a range of materials. Wood is probably the most common. Extrusions of aluminium alloy are very nice to work with. Extrusions of typemetal are cheaper but make the forme quite heavy. The furniture in this picture is of cast iron.
You can see the pica measurements cast into each piece.
---
| | |
| --- | --- |
| | Look up printers' measurements, machinery, materials in our Glossary of Typography. Find the glossary on the MUSEUM'S HOME PAGE (link at top of this page). |
---
---
---
Return to Top