| | | |
| --- | --- | --- |
| Melbourne Museum of Printing | Australia's working and teaching museum of typography and printing located at Footscray, Victoria. Specialising in retention of traditional printing, both the equipment and the knowledge. | |
NOTE: ALL TEXT AND PHOTOGRAPHS ARE COPYRIGHT. All intending users please see our copyright notice page.
---
Enlarged Picture from the Museum's LEAFLET MARCH 2003
WHEN YOU REACH THE BOTTOM OF THIS FILE [THIS IS THE LAST FILE], YOU CAN CLICK A LINK BACK TO THE FIRST ENLARGEMENT. YOU CAN RETURN FROM ANY ENLARGEMENT BACK TO THE MAIN DOCUMENT OR BACK TO THE DOCUMENT INDEX.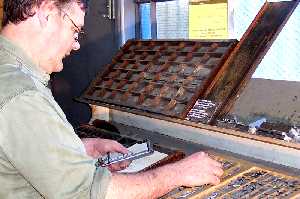 [picture in document]
---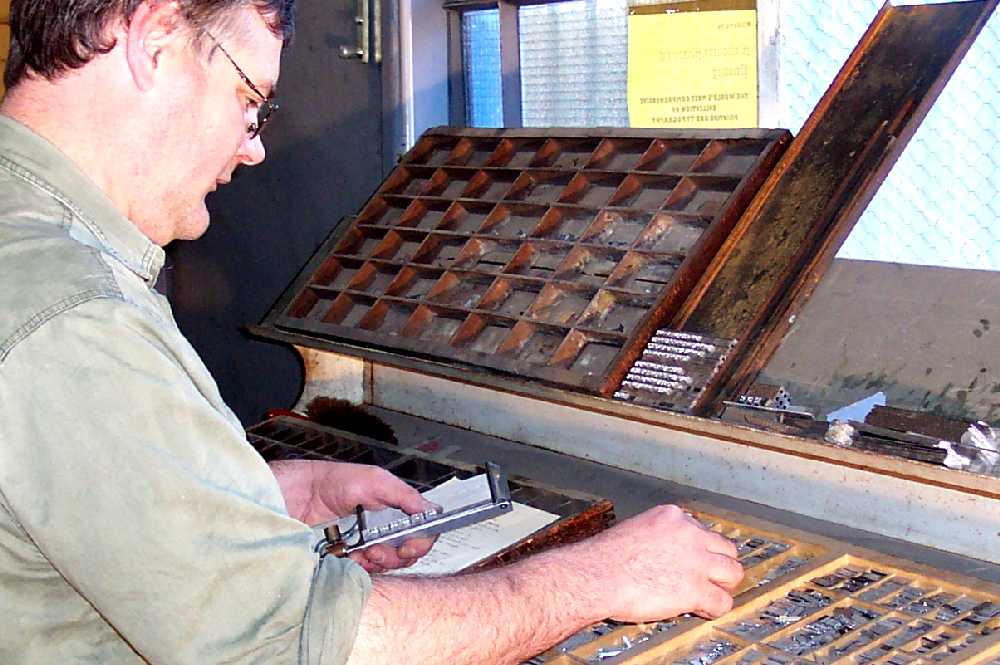 Renowned printmaker John Ryrie of Yarraville recently attended the Access Studio at the Melbourne Museum of Printing to print a limited edition of a poem accompanied by one of his linocuts.
In this shot, John is typesetting the poem. You can see he is taking individual letters from the typecase and placing them into the composing stick held in his left hand, building a line letter by letter.
When he has a few complete lines in the stick, he will dump the stick. That means he will carefully remove the lines with their hundred or so small pieces of metal, into the waiting galley sitting on the angled work-top on top of the type cabinet.
When the galley is full or the job complete, John will place the galley on the bed of a proofing press, pass an inked roller over the type, place sheet of paper on top, and apply pressure to print a galley proof. He and a collaborator will proof read the sheet and mark it for corrections, if any.
Once the typesetting is okayed, the composed letters are slid from their galley onto the stone. This is a solid topped work table, originally of stone but often now of heavy cast iron. There, it will be surrounded by strips of furniture and a cast iron chase (frame) will be placed around the lot.
A number of quoins together with additional spacing material will be inserted. The quoins are expanding wedge units which keep the type and spacing tight within the chase. The entire forme (chase, quoins, spacing and type) can now be lifted as a unit and is placed into the press for printing.
---
| | |
| --- | --- |
| | Look up printers' measurements, machinery, materials in our Glossary of Typography. Find the glossary on the MUSEUM'S HOME PAGE (link at top of this page). |
---
---
---
Return to Top