| | | |
| --- | --- | --- |
| Melbourne Museum of Printing | Australia's working and teaching museum of typography and printing located at Footscray, Victoria. Specialising in retention of traditional printing, both the equipment and the knowledge. | |
NOTE: ALL TEXT AND PHOTOGRAPHS ARE COPYRIGHT. All intending users please see our copyright notice page.
---
Enlarged Picture from the Museum's LEAFLET MARCH 2003
WHEN YOU REACH THE BOTTOM OF THIS FILE, YOU CAN CLICK A LINK TO THE NEXT ENLARGEMENT, THEN THE NEXT, FINALLY BACK TO THE FIRST. YOU CAN RETURN FROM ANY ENLARGEMENT BACK TO THE MAIN DOCUMENT OR BACK TO THE DOCUMENT INDEX.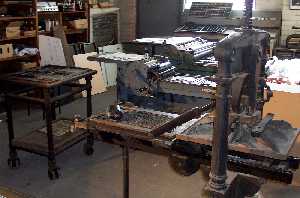 [picture in document]
---
Three of our preserved presses, in use in the Artist Access Studio.
The old one, nearest the camera, is an Albion-style press, made in London by A. Wilson and Sons, and dated 1849. Some missing parts have been replaced by makeshift replicas and it is only suitable for light work at present.
The next is a Vandercook SP15 test press and behind that is a larger test press by Western Machinery of Reading. These have been used by many artists and writers for limited edition books, posters and broadsheets.
---
| | |
| --- | --- |
| | Look up printers' measurements, machinery, materials in our Glossary of Typography. Find the glossary on the MUSEUM'S HOME PAGE (link at top of this page). |
---
---
---
Return to Top