| | | |
| --- | --- | --- |
| Melbourne Museum of Printing | Australia's working and teaching museum of typography and printing located at Footscray, Victoria. Specialising in retention of traditional printing, both the equipment and the knowledge. | |
NOTE: ALL TEXT AND PHOTOGRAPHS ARE COPYRIGHT. All intending users please see our copyright notice page.
---
Enlarged Picture from the Museum's GALLERY OF STEREOTYPES
WHEN YOU REACH THE BOTTOM OF THIS FILE, YOU CAN CLICK A LINK TO THE NEXT ENLARGEMENT, THEN THE NEXT, FINALLY BACK TO THE FIRST. YOU CAN RETURN FROM ANY ENLARGEMENT BACK TO THE MAIN DOCUMENT OR BACK TO THE GALLERY INDEX.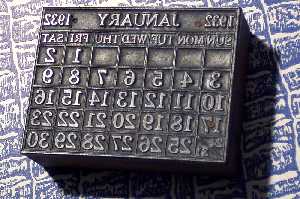 [picture in document]
---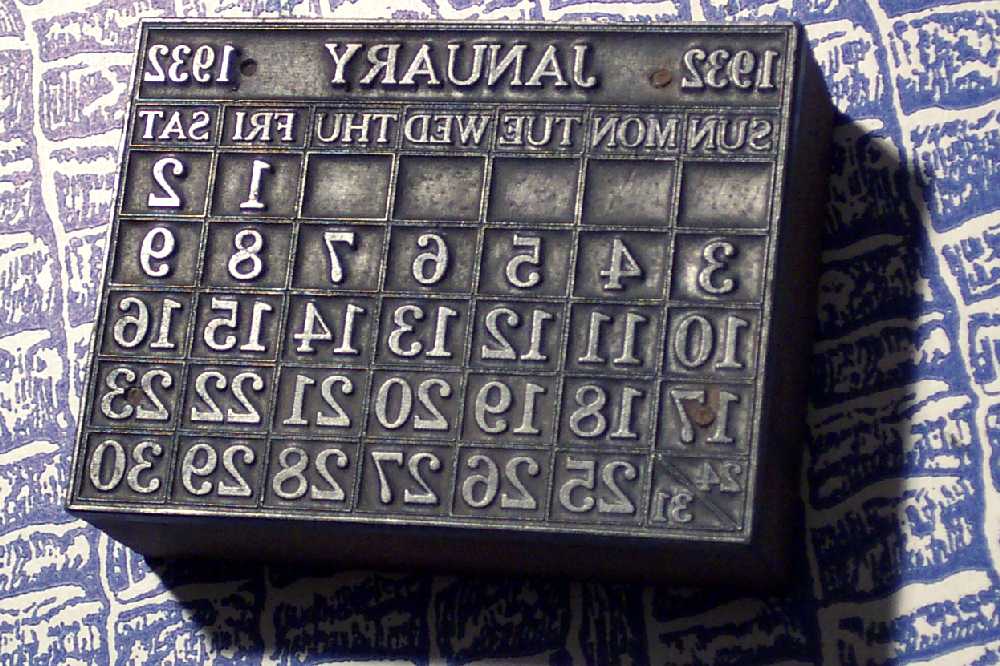 Every year, printers' supply houses would produce sets of stereotyped calendar blocks for the following years' round of calendar and diary printing.
Many printers took advantage of the availability of this easy way of making up the calendars. The supply houses in many cases would contract this work to a large printer or typefounder equipped with a full stereotype plant.
This particular block looks as though it was moulded from a set of calendar logotypes. These are a typefoundry product with days, date numbers, dual date numbers and blank dates, each enclosed in a border.
This stereotype, along with thousands of others, is available in the Museum's archives for researchers to study and if necessary, print copies from.
---
| | |
| --- | --- |
| | Look up printers' measurements, machinery, materials in our Glossary of Typography. Find the glossary on the MUSEUM'S HOME PAGE (link at top of this page). |
---
---
Return to Top