| | | |
| --- | --- | --- |
| MELBOURNE MUSEUM OF PRINTING | Why Did We Have to Move? | |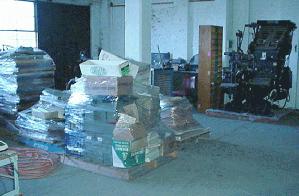 Note: these comments also apply to Australian Type Company, our letterpress service operation.
NB this was written in 2004
In 2010, much has changed, but the jeopardy remains. If we cannot gain sponsorship, the Museum must close.
Due to change in ownership of our previous location at 91 Moreland Street Footscray we had to move out in 1998/99.
The Museum's collection is now housed in warehouses around Melbourne. We are welcome at one of them if we can find a sponsor to help with the rent. It is big enough for the whole lot. The other two site want us out and have threatened to destroy our collection if we cannot move. And at present, we cannot. This is what you call jeopardy.
Now, luckily, we have been given the chance to occupy a new small building in Footscray on an "affordable basis" where we have set up and re-opened the Museum with just a small fraction of the collection.
The rest of the collection, in storage, is subject to rain damage, dust and perhaps intruders, but more-or-less safe. One store was demolished recently and we were lucky in receiving help in moving to a replacement.
At this stage, not having run any classes since October 1998, the Graphic Students' Workshop program needs to be re-started from scratch, with input from teachers about its syllabus and direction.
Please see our
---
Return to top