SO, WHY DOES MMOP HAVE A PROBLEM?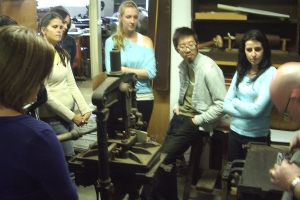 MMOP has always tried to depend solely on volunteers: its backers could cover the rent but not offer enough to cover any wages. In recent years it has become obvious that some paid staff are essential in a large museum. Without them, it is hard to keep the volunteers motivated and consequently there are never enough regular volunteers. Running the programs efficiently is a challenge, and many volunteers tend to lose interest . . . the museum is now more-or-less "dormant": still working but not getting enough participants to be sustainable.
Unfortunately, MMOP seems to be the only museum of printing that has to pay commercial rent and cover it from takings. Along with having no budget for staffing, this has made stable operation a distant dream.
And of course, an important collection needs to own its own building, so that no matter what happens, the priceless machines, artefacts and documents are not in jeopardy if revenues fail. The present building is offered to MMOP for a fair price and it would be great to find some way towards buying it before the owner sells it to someone else. The proposed MMOP Foundation Inc would be the owner.
The plan now (whether buying the building or not) is to convert MMOP to a professional organisation with a small team of full-time staff. Within a few years it will have sufficient activity to cover all expenses.
MMOP will become one of the world's leading museums in its field. It offers support to other Australian printing collections and will undertake useful research as well as improving its range of community and educational offers. For example its proposed Grade 6 program will reach most young people as they pass through their education, so they will at least understand what that there is a printing industry - it's not just a mouse-click!
That plan will require significant funding to cover fixed expenses for up to five years in decreasing steps. In that time, the staff and volunteers will get it running well, paying its way. MMOP will be jumping, 7 days!
If it is necessary to borrow for these initial fixed expenses, it is very likely that the present and proposed activities will produce enough cash flow to service all loan obligations.
WHAT CAN I DO TO HELP?
Please consider attending a workshop. Learn an ancient craft. Produce some great art in the studio. Encourage schools and colleges to bring their classes. How about networking with people you know who could offer some serious help? Get them to visit and see it first-hand.
---