Movable type composed by hand remained as the only method of typesetting for hundreds of years, even while printing itself had become mechanised and even fully automated, at least for major publications.
It was not until about 1890 that a reliable labour-saving method became available to perform typesetting from a keyboard. There were many earlier attempts but none offered the printers and publishers sufficient savings to be widely adopted.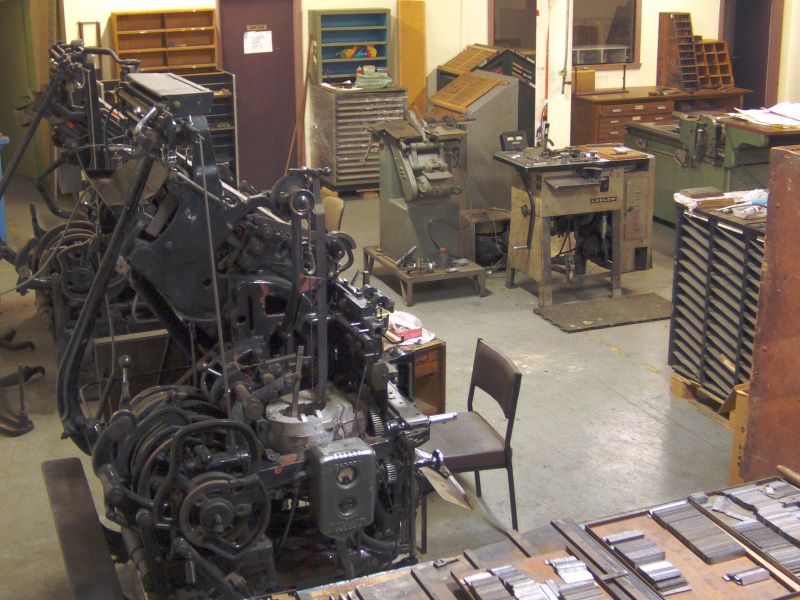 THE MMOP STUDIO: THE LINOTYPE, WITH THE COMPOSITORS' SAW AND THE LUDLOW TYPOGRAPH IN THE BACKGROUND.
ANOTHER MACHINE IS JUST VISIBLE BEHIND THE LINOTYPE: IT IS AN INTERTYPE, ALMOST IDENTICAL TO THE LINOTYPE.
By the 1920 era, the Linotype machine was widely used throughout the publishing industry in most parts of the world to produce solid lines of type in place of lines of individual letters. This resulted in a very great increase in productivity and before long, publishers were printing more pages and the cost of printing was reduced.
The Linotype operator taps a letter-key and the mechanism releases a matrix of that letter, from the magazine where the matrices (we usually say "mats") are stored, into the assembler. When a line is completed, pressing a lever moves the line of mats into the casting section where the mats are filled with molten type-metal. The metal freezes instantly and the line is ejected to join the previous lines in the galley. Meanwhile, the individual mats find their way back to the magazine and into their correct channel, and also meanwhile the operator has composed one or more further lines.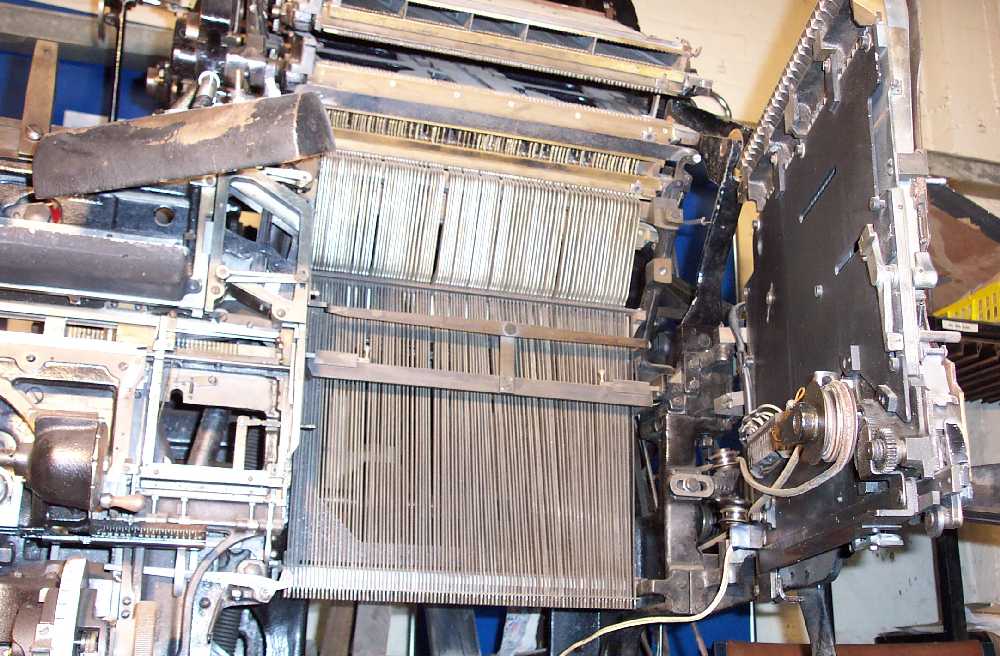 BEHIND THE FRONT PANEL OF THE LINOTYPE.