Keeping Craftsmanship Alive

Print for print's sake - now there's a novel concept. In a necessarily commercial world, it's an eye-opener to delve into places where the craft of print lives on. Peter Kohn takes a look.
The Melbourne Museum of Printing (MMoP) is a time capsule of printing and typography, where founder Michael Isaachsen and other volunteers hold workshops for graphics students, industry groups, and beginners.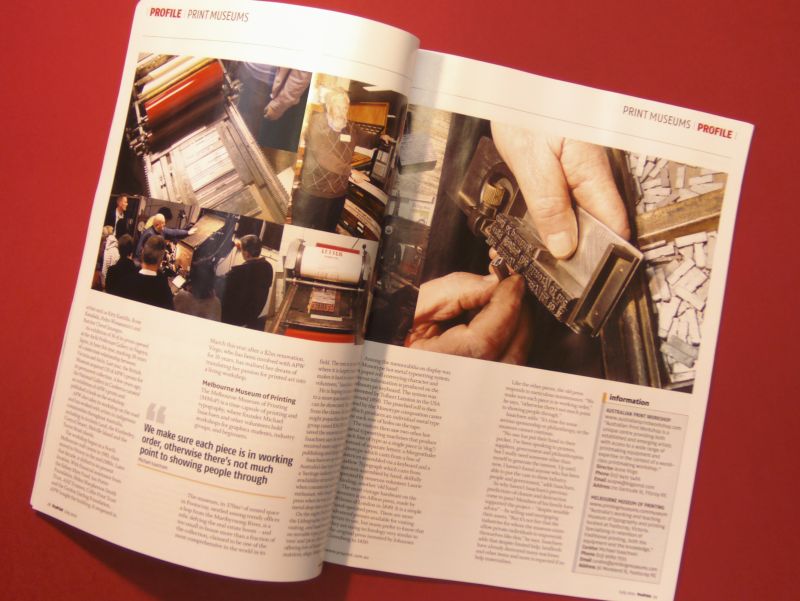 The museum, in 370m2 of rented space in Footscray, nestled among trendy offices a hop from the Maribyrnong River, is a relic defying the real estate boom - and too small to house more than a fraction of the collection, claimed to be one of the most comprehensive in the world in its field. The rest is in numerous warehouses where it is largely inaccessible. "This makes it hard to maintain the interest of volunteers," Isaachsen commented.
He is hoping to consolidate the museum to a more spacious facility, where this kit can be showcased. But, even with revenue from the classes, he laments a lack of funds might jeopardise the museum. A support group raised $30,000 last year, and that saved the museum at the time, but Isaachsen says he wishes the museum received more support from the printing, publishing and design industries.
Isaachsen set up what was to become Australia's last type foundry in 1977, as a `heritage industry' to ensure the availability of movable types. In 1993, when commercial realities bit, the print enthusiast, who bought his first table-top press when he was just 11, morphed his hot-metal shop into a not-for-profit museum.
On the night ProPrint called at MMoP, the Lithographic Institute of Australia was visiting, and Isaachsen gave a presentation on movable type, peppered with talk of `ems' and `picas', leading and kerning, and offering lots of hands-on time with types, matrices, slugs, fonts and galleys.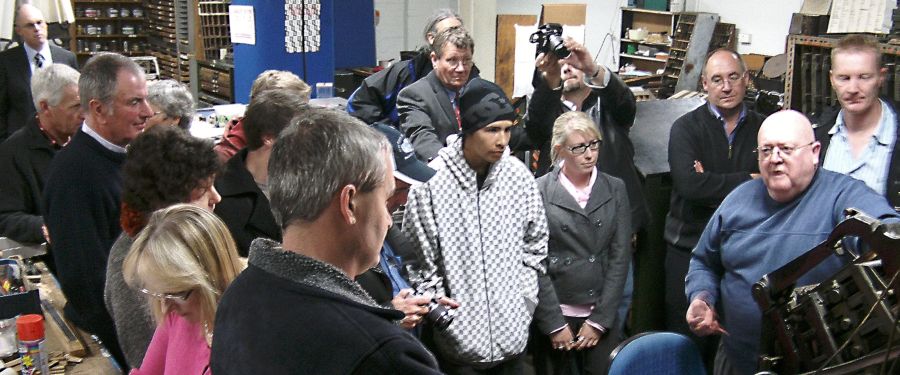 Museum volunteer, Laurie Harding, talks to L.I.A. members about his years as a compositor.
Among the memorabilia on display was a Monotype hot-metal typesetting system. A paper roll conveying character and layout information is produced on the Monotype keyboard. The system was invented by Tolbert Lanston in the USA around 1890. The punched roll is then read by the Monotype composition caster which produces an individual metal type for each row of holes on the tape.
The visitors then saw two other hot-metal typesetting machines that produce each line of type as a single piece (a `slug') instead of separate letters: a Mergenthaler Linotype which casts from a line of matrices assembled via a keyboard and a Ludlow Typograph which casts from matrices assembled by hand, skilfully operated by museum volunteer Laurie Harding, another `old hand'.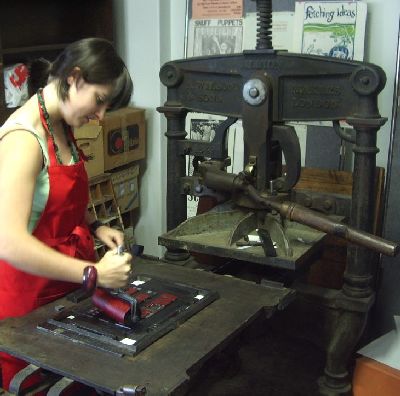 The most vintage hardware on the premises is an Albion press, made by Wilsons of London in 1849. It is a simple hand-operated press. There are more advanced presses available for visiting artists to use, but many prefer to know that they are using technology very similar to the original press invented by Johannes Gutenberg in 1450.
Like the other pieces, the old press responds to meticulous maintenance. "We make sure each piece is in working order," he says, "otherwise there's not much point to showing people through."
Isaachsen adds: "It's time for some serious sponsorship or philanthropy, or the museum cannot continue.
"No one has put their hand in their pocket. I've been speaking to printers, suppliers, government and philanthropists but I really need someone other than myself to generate the interest. Up until now, I haven't found anyone who has been able to put the case to these industry people and government," adds Isaachsen.
So why haven't Isaachsen's previous predictions of closure and destruction come to pass? Members of his family have supported the project - "despite sensible advice" - by selling and mortgaging their assets. "But it's not fair that the industries for whom the museum exists allow private individuals to impoverish themselves like this," he says. Isaachsen adds that despite limited help, landlords have already destroyed many machines and other items and more is expected if no help materialises.
---
INFORMATION
MELBOURNE MUSEUM OF PRINTING
www.printingmuseums.com/museum
Australia's working and teaching museum of typography and printing located at Footscray, Victoria. Specialising in retention of traditional printing, both the equipment and the knowledge.
Curator Michael Isaachsen
Phone (03) 9689 7555
Email curator@printingmuseums.com
Address 36 Moreland St, Footscray VIC
---
Australian Print Workshop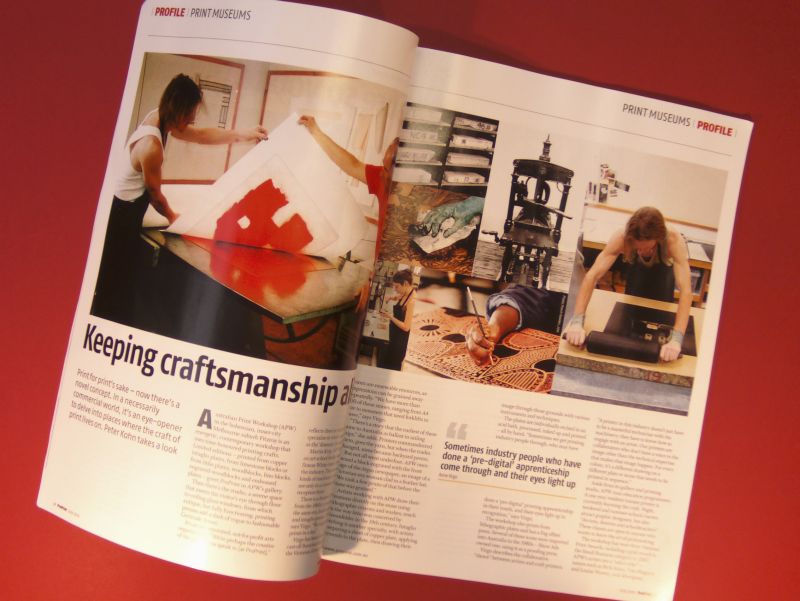 www.australianprintworkshop.com
The part of the feature that details events at the A.P.W. is not reproduced here but the entire feature is available on line at the ProPrint website. See below for link.
AUSTRALIAN PRINT WORKSHOP
Director: Anne Virgo
Phone: (03) 9419 5466
Email: auspw@bigpond.com
Address: 210 Gertrude St, Fitzroy VIC
Complete ProPrint Feature