---
THE LINOTYPE HOT-METAL TYPESETTING SYSTEM
The Linotype in daily use at the Museum is a 'Model 78' and was made around 1960. The last ones were produced around 1978.

Newspaper 'composing rooms' had row after row of Linotypes (and/or their competitors the Intertypes, almost identical). The Museum's collection can replicate an old time comp-room, as seen in the picture. Could be great for a film set?

One advantage of the Linotype and similar systems is that the type did not need sorting out for reuse. It just got melted down and cast into ingots for the next day's paper.

The pix below show mats (matrices) in various views, and some of the inner workings of this incredible machine:

the camshaft, with 14 cams that move the various parts at the right time;
the keyboard cam assembly 'on the bench' for cleaning; and
a few of the 92 keyboard cams lined up waiting to be cleaned and trued up.
The Museum could provide higher-res pix if needed.

ANY QUESTIONS? CONTACT US
---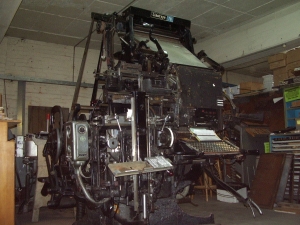 The Model 78 Linotype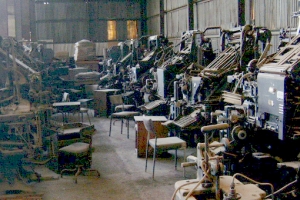 The Composing Room Re-enacted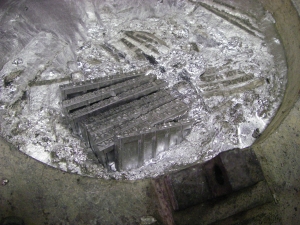 After use, the slugs are remelted