| | | |
| --- | --- | --- |
| Melbourne Museum of Printing | Australia's working and teaching museum of typography and printing located at Footscray, Victoria. Specialising in retention of traditional printing, both the equipment and the knowledge. | |
NOTE: ALL TEXT AND PHOTOGRAPHS ARE COPYRIGHT. All intending users please see our copyright notice page.
---
Enlarged Picture from the Museum's RE-ENACTMENT GALLERY
WHEN YOU REACH THE BOTTOM OF THIS FILE, YOU CAN CLICK A LINK TO THE NEXT ENLARGEMENT, THEN THE NEXT, FINALLY BACK TO THE FIRST. YOU CAN RETURN FROM ANY ENLARGEMENT BACK TO THE MAIN DOCUMENT OR BACK TO THE GALLERY INDEX.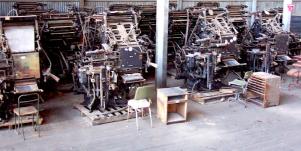 [picture in document]
---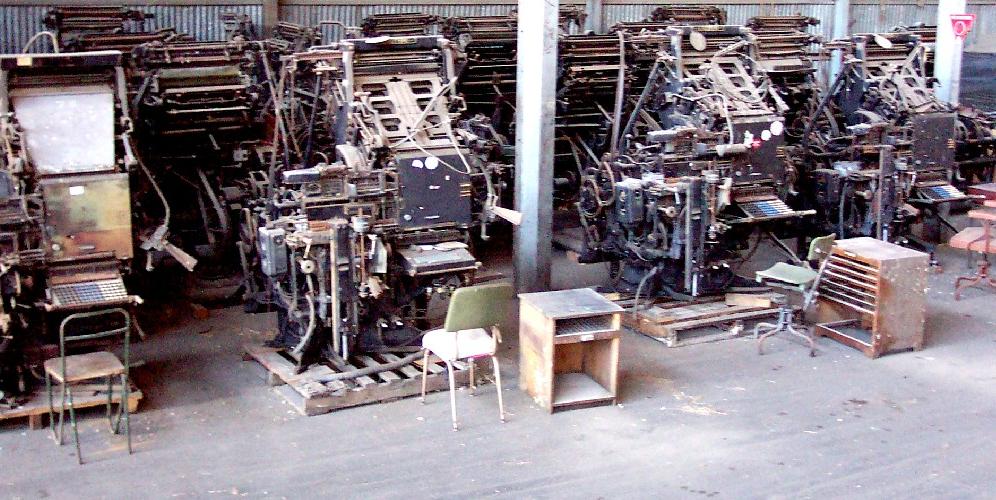 This view over a group of Linotypes and Intertypes is intended to whet the appetite for what the re-enactment scene will be like.
For a start, the machines will not be on pallets, will be cleaned up and will have magazines fitted. The Museum has adequate magazines and founts of matrices. The machines will be set out more spaciously: in this shot they are too close for comfort.
The re-enactment will provide up to 40 of these machines with appropriate numbers of Ludlow casters, Monotype casters and keyboards, and hand-setting case-frames. These will be accompanied by all the usual supporting items: galley racks, composing saws, lead cutters, stones (cast iron work tops), page trolleys and quantities of consumables (hand-set type, leads, rules, furniture).
A number of presses will be on hand, at least one of which will print a broadsheet spread.
Probably there will be an editorial department with manual typewriters and the necessary office furniture.
---
| | |
| --- | --- |
| | Look up printers' measurements, machinery, materials in our Glossary of Typography. Find the glossary on the MUSEUM'S HOME PAGE (link at top of this page). |
---
---
---
Return to Top