| | | |
| --- | --- | --- |
| Melbourne Museum of Printing | Australia's working and teaching museum of typography and printing located at Footscray, Victoria. Specialising in retention of traditional printing, both the equipment and the knowledge. | |
NOTE: ALL TEXT AND PHOTOGRAPHS ARE COPYRIGHT. All intending users please see our copyright notice page.
---
Enlarged Picture from the Museum's RE-ENACTMENT GALLERY
WHEN YOU REACH THE BOTTOM OF THIS FILE, YOU CAN CLICK A LINK TO THE NEXT ENLARGEMENT, THEN THE NEXT, FINALLY BACK TO THE FIRST. YOU CAN RETURN FROM ANY ENLARGEMENT BACK TO THE MAIN DOCUMENT OR BACK TO THE GALLERY INDEX.
[picture in document]
---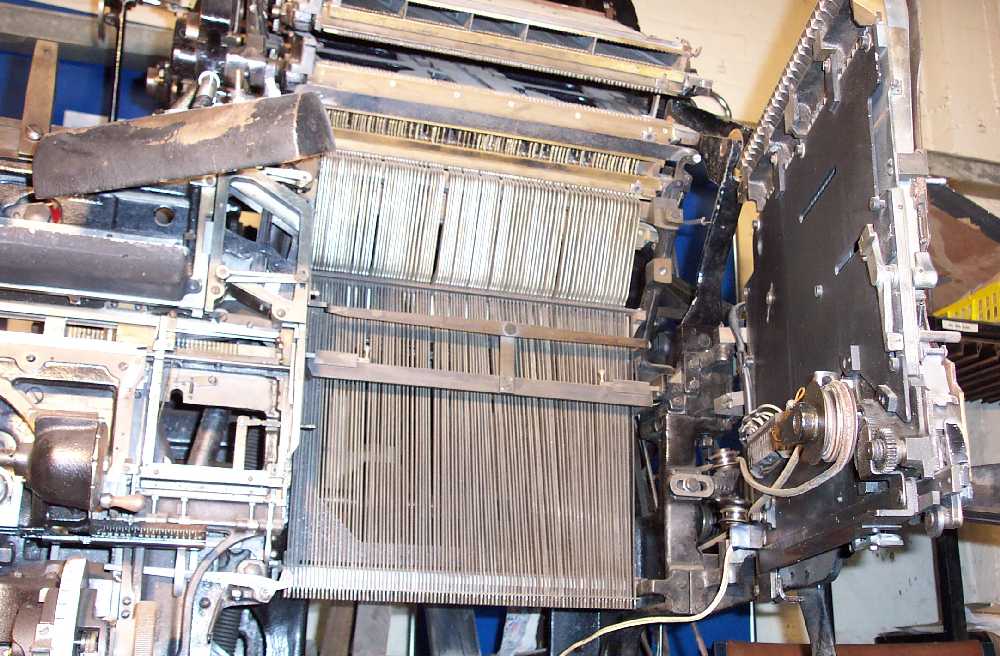 The front panel of the Linotype swings open, revealing the parts which control the release of matrices from the magazine.
The large group of 90 vertical reeds (or long keyboard rods) occupy the middle part of this shot. Each reed can be pushed upwards by the action of its counterpart short keyboard rod on the top edge of the keyboard. [At this time, the keyboard has been removed for repairs.]
Above the reeds are the 90 escapement levers (often called boomerangs). The boomerang is pushed upward by the reed and acts on its counterpart among the 90 magazine escapements.
Just above the boomerangs you can see the front edge of a magazine, with the bottom edge of each matrix visible across the front. The escapement, when pressed up and then released, allows exactly one matrix to escape from the magazine. The matrix falls into the assembler guides which are within the front panel. The top ends of the guides are just visible at the top of the [opened] front panel.
As a point of interest, above the working magazine is a vacant magazine slot and above that is another magazine, an empty one. There is another magazine slot below the working one. A total of four magazine slots: the operator can easily shift between them to change to a different fount.
On the rear surface of the (open) front panel you can see the leather belt (quarter-inch round) which drives the assembler mechanism. It is interesting to note that the belt crosses over itself in order to drive the assembler in the required direction. Also that the belt looks to be very loose, but works correctly.
---
| | |
| --- | --- |
| | Look up printers' measurements, machinery, materials in our Glossary of Typography. Find the glossary on the MUSEUM'S HOME PAGE (link at top of this page). |
---
---
---
Return to Top