| | | |
| --- | --- | --- |
| Melbourne Museum of Printing | Australia's working and teaching museum of typography and printing located at Footscray, Victoria. Specialising in retention of traditional printing, both the equipment and the knowledge. | |
NOTE: ALL TEXT AND PHOTOGRAPHS ARE COPYRIGHT. All intending users please see our copyright notice page.
---
Enlarged Picture from the Museum's GALLERY OF FOUNTS
WHEN YOU REACH THE BOTTOM OF THIS FILE, YOU CAN CLICK A LINK TO THE NEXT ENLARGEMENT, THEN THE NEXT, FINALLY BACK TO THE FIRST. YOU CAN RETURN FROM ANY ENLARGEMENT BACK TO THE MAIN DOCUMENT OR BACK TO THE GALLERY INDEX.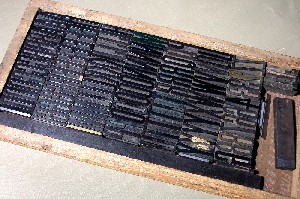 [picture in document]
---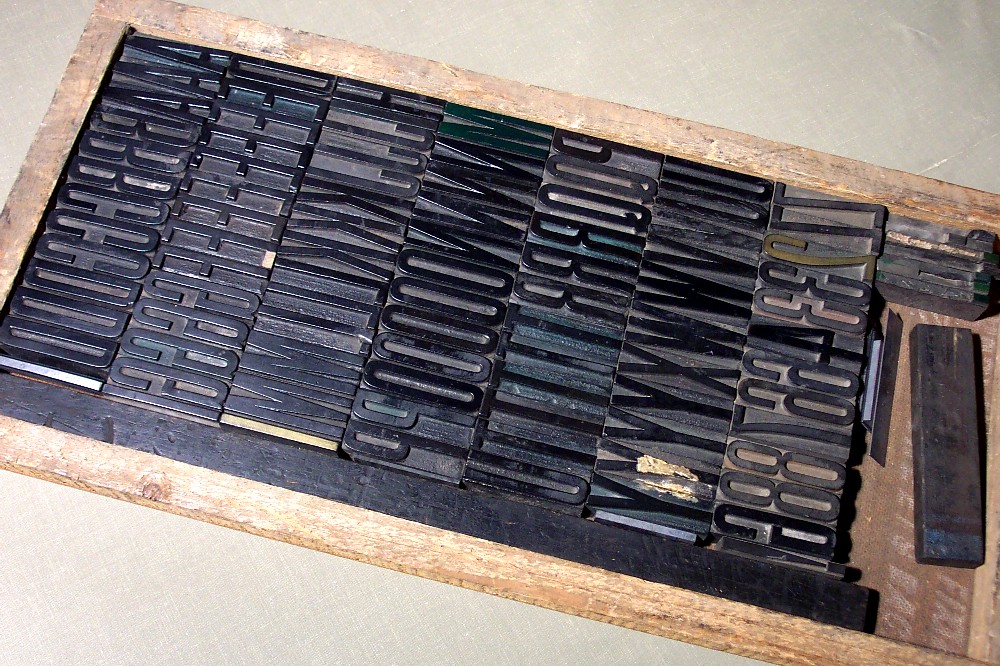 Wood type is made in those sizes that are difficult to produce by typecasting. Although there are wood type faces of 72 point (one inch) and smaller, they are unusual as the benefits are minimal.
The common uses for wood type and other large letters include posters (newspaper posters, movie posters) and headlines on news sheets.
This fount is described as 18-line sans light ultra condensed. Note that the size is measured not in points but in lines. The line size is the measurement in picas (pica ems). Eighteen lines, 18 picas, is very close to three inches (76 mm).
The Museum has "some dozens" of founts of wood type, in sizes ranging from 4-line to 72-line (one foot high). No doubt someone has smaller or larger! Not all founts are complete, unfortunately. This one has none of letter S.
Wood type are stored in typecases with rungs instead of divisions, or in galleys as in this instance.
---
| | |
| --- | --- |
| | Look up printers' measurements, machinery, materials in our Glossary of Typography. Find the glossary on the MUSEUM'S HOME PAGE (link at top of this page). |
---
---
Return to Top