| | | |
| --- | --- | --- |
| Melbourne Museum of Printing | Australia's working and teaching museum of typography and printing located at Footscray, Victoria. Specialising in retention of traditional printing, both the equipment and the knowledge. | |
NOTE: ALL TEXT AND PHOTOGRAPHS ARE COPYRIGHT. All intending users please see our copyright notice page.
---
Enlarged Picture from the Museum's JUNE 2003 PICTORIAL
WHEN YOU REACH THE BOTTOM OF THIS FILE, YOU CAN CLICK A LINK TO THE NEXT ENLARGEMENT, THEN THE NEXT, FINALLY BACK TO THE FIRST. YOU CAN RETURN FROM ANY ENLARGEMENT BACK TO THE MAIN DOCUMENT OR BACK TO THE DOCUMENT INDEX.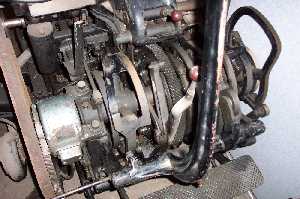 [picture in document]
---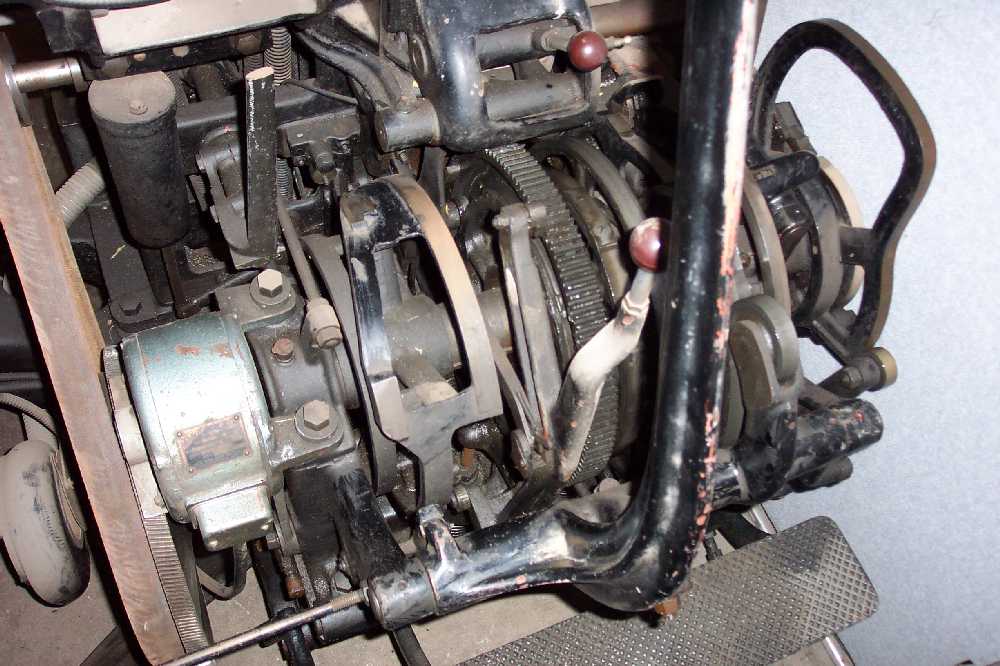 Looking down from standing on the back step, a view of the rear of the Linotype. You can see the mould cooling fan, the drive belt and driving pulley at left, then the motor, the camshaft bearing bracket, and the numerous cams (eleven in all) which drive the various motions of the machine. The camshaft driving gear (itself an inside cam) can be seen partway along the camshaft. It is driven from below by an intermediate shaft, powered in turn by an automatic clutch within the driving pulley.
Coming up from this mechanism is the near-vertical second elevator lever. At its proper time, driven by one of the cams, this descends to near-horizontal. The end of this arm has a matrix bar with grooves that will receive the used line of matrices and bring them right up to the top of the machine. The matrices will be pushed off this bar into the distributor (often called a disser) by which each matrix is returned to its proper channel in the magazine.
---
| | |
| --- | --- |
| | Look up printers' measurements, machinery, materials in our Glossary of Typography. Find the glossary on the MUSEUM'S HOME PAGE (link at top of this page). |
---
---
---
Return to Top