| | | |
| --- | --- | --- |
| Melbourne Museum of Printing | Australia's working and teaching museum of typography and printing located at Footscray, Victoria. Specialising in retention of traditional printing, both the equipment and the knowledge. | |
NOTE: ALL TEXT AND PHOTOGRAPHS ARE COPYRIGHT. All intending users please see our copyright notice page.
---
Enlarged Picture from the Museum's JUNE 2003 PICTORIAL
WHEN YOU REACH THE BOTTOM OF THIS FILE, YOU CAN CLICK A LINK TO THE NEXT ENLARGEMENT, THEN THE NEXT, FINALLY BACK TO THE FIRST. YOU CAN RETURN FROM ANY ENLARGEMENT BACK TO THE MAIN DOCUMENT OR BACK TO THE DOCUMENT INDEX.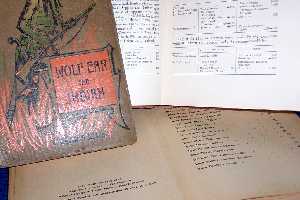 [picture in document]
---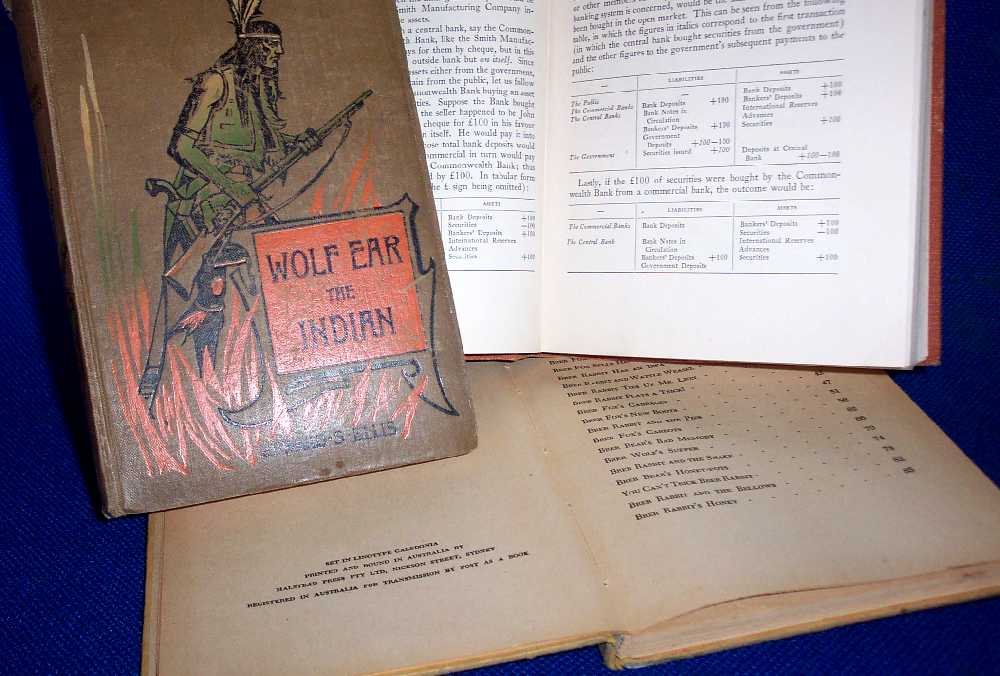 The Museum's Library of Books as Artefacts aims to provide users of the Access Studio, and others interested in book design, with thousands of examples of books produced with various combinations of paper, typeface, spacing, pictorial methods, binding and other variables.
Books to be included are generally selected not for who wrote them, or their subject, but for who printed them and how they were printed and bound.
The collection includes books printed by many of the world's leading book printers, and probably all of the main book printers of Australia.
Wolf Ear the Indian was printed by the publisher, Cassell & Co., at their works La Belle Sauvage in London around 1915. It appears to have been typeset by hand.
Wealth and Income, a financial analysis, was published by MUP and printed by Brown, Prior, Anderson in Melbourne in 1955. It appears to be composed on the Linotype system. It contains many intricate tables and formulae: the Monotype system is particularly versatile with such, but on this occasion Linotype slugs were used, it seems.
Enid Blyton's Third Brer Rabbit Book, Special Australian Edition, was published by Angus and Robertson and printed in Sydney by Halstead Press. The colophon reveals that it was set in Linotype Caledonia (typeface).
---
| | |
| --- | --- |
| | Look up printers' measurements, machinery, materials in our Glossary of Typography. Find the glossary on the MUSEUM'S HOME PAGE (link at top of this page). |
---
---
---
Return to Top