| | | |
| --- | --- | --- |
| Melbourne Museum of Printing | Australia's working and teaching museum of typography and printing located at Footscray, Victoria. Specialising in retention of traditional printing, both the equipment and the knowledge. | |
NOTE: ALL TEXT AND PHOTOGRAPHS ARE COPYRIGHT. All intending users please see our copyright notice page.
---
Enlarged Picture from the Museum's JUNE 2003 PICTORIAL
WHEN YOU REACH THE BOTTOM OF THIS FILE [THIS IS THE LAST FILE], YOU CAN CLICK A LINK BACK TO THE FIRST ENLARGEMENT. YOU CAN RETURN FROM ANY ENLARGEMENT BACK TO THE MAIN DOCUMENT OR BACK TO THE DOCUMENT INDEX.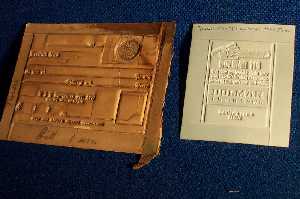 [picture in document]
---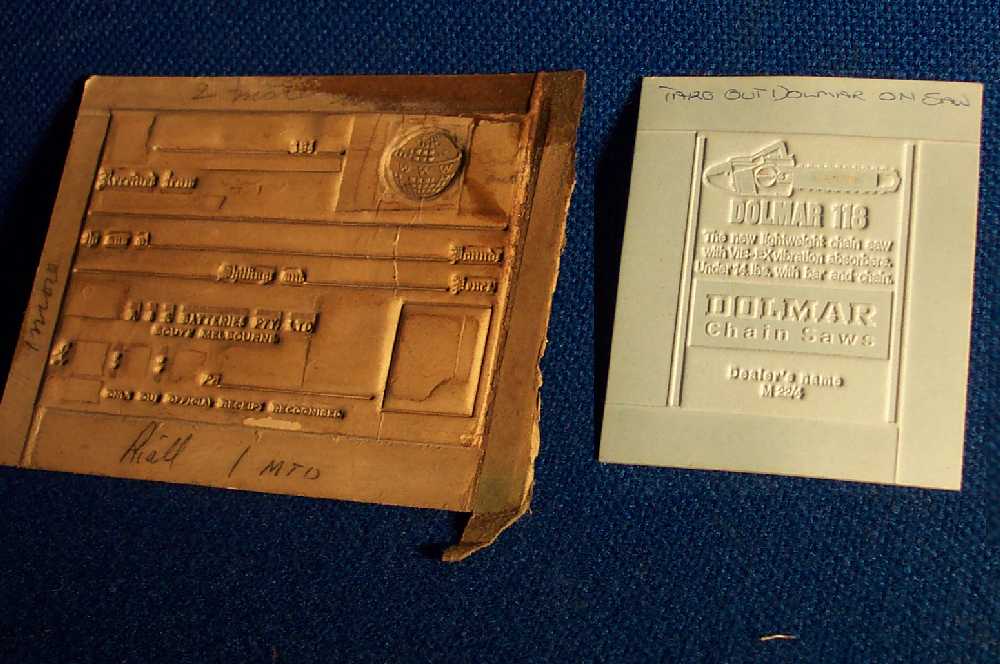 The stereotype process was used when a typesetting had to be duplicated. A stereotype matrix was made by pressing the typesetting into a special soft, thick paper. The top layer of the paper was of a very fine grain which would faithfully record the finest type, and every dot of a photoengraving.
An earlier method involved placing a sheet of tissue-like paper over the typesetting and beating it into the type with very gentle strokes from a special stereotyper's brush. Further layers were added, with a layer of adhesive paste between each layer. This method was superseded when a suitable moulding press was developed and the special multi-layer paper (known as flong) was marketed.
The stereo plate was made from the matrix by pouring molten type-metal into a stereotype moulding box within which the matrix was located. After casting, the plate needed to be milled on the back to an even surface and the correct thickness.
In most cases the plate would then be mounted type-high on a wooden block. It could then be printed from just like the original typesetting.
The Melbourne Museum of Printing has stereo mats and stereo plates from many printers, covering a wide range of printed products and images. In many cases, the design of the stereotyped document was the work of an advertising agency.
The mat on the left is for a receipt book. It would have been set in type once, and duplicates made to allow printing perhaps three receipts per page. From the details it seems to be from the 1940's and the money amounts are in pounds, shillings and pence. NOTE THE INTERESTING LOGO: were these battery makers the first to use the web?
The mat on the right is an ad for a chain saw. It appears not to have been used. Advertising agencies often had multiple mats made and circulated to printers. Where the words Dealer's name appear, the plate would be cut away and the printer would insert type (handset or linotype slug) with the name of the firm selling the product.
---
| | |
| --- | --- |
| | Look up printers' measurements, machinery, materials in our Glossary of Typography. Find the glossary on the MUSEUM'S HOME PAGE (link at top of this page). |
---
---
---
Return to Top